Description
Join us for an informal wine and cheese to walkthrough 10C Shared Space and learn more about the role that Community Bonds have played in creating this community hub. The building is approximately 85% complete and we are working to complete our community bond campaign.
4:00pm
Enjoy some snacks and casual conversation in the University of Guelph Gallery & Lounge area while seeing the inspiring Focus on Nature photo exhibit. We will then begin a tour of the building, from the rainwater harvesting system in the lower level to the future certified commercial kitchen space on the 4th floor. Throughout the tour, we will dive a bit more deeply into the community bond program, which has made this project possible, and can answer any questions.
5:15pm
Big changes are happening in Downtown Guelph. We will also have an opportunity to tour the newly renovated King Edward Hotel (2 Wyndham Street). This building has been revitalized and is now the home to Inbox Marketer. Founder Geoff Linton will give an overview of their vision for an exciting tech hub for digital marketing bringing new economic innovation to the heart of downtown Guelph.
Why both? First, we love space. And most importantly, innovation is about collaboration. 10C and Inbox Marketer hope to collaborate on various ways that we can highlight the work of Guelph organizatons in the innovation sector.
(Please note that the 10C elevator is still waiting final inspection, and will not be operational for this event. If you have any accessibility issues, please let us know and we'll revise our program). Inbox Marketer is accessible.
please RSVP through Eventbrite, or email investment@10carden.ca to confirm your attendance.


---

IMPACT investing right here in Guelph.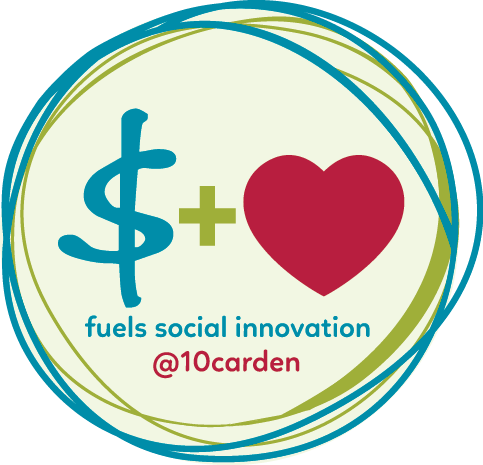 10 Carden is working to connect with new investors and those interested in making a local investment that earns a financial return AND supports social innovation. E and F series bonds are still available.

10 Carden Shared Space's asset-backed Series Community Bonds earn you a 3% or 4% financial return while supporting research, collaboration and shared social impacts created by a number of changemaking organizations working across sectors. This project has been made possible by the support of over 85 social investors investing between $1000 and $125,000 each.
Did you know?
Most mid-sized cities have a vibrant coworking organization. Coworking is definitely on the rise. Most coworking centres in Ontario have emerged in the past 5 years and 93% are located downtown. These collaborative enterprises are becoming a new working model of choice!

In operation since 2009, 10 Carden Shared Space (10C) is one of the longest-standing not-for-profit coworking and community event centres in Canada. With our move to the new building, we will host 15,000 sq ft of space for over 100 organizations including 40-50 people working on-site all engaged in some form of social impact. Our members also host amazing community events across a spectrum of disciplines. We can't wait to see what unfolds in this expanded and accessible space.

Consider joining the other community investors as we create more space for change. Whether it's $1,000 or $50,000, you can be an impact investor. If you'd like to receive the community bond investment package, please email investment@10carden.ca.