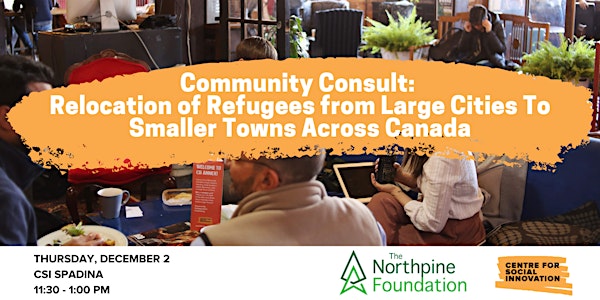 Community Consultation
Community Consult: Relocation of Refugees from big cities to smaller towns across Canada.
When and where
Location
Centre for Social Innovation 192 Spadina Avenue Ground Floor (Bigger Bolder Room) Toronto, ON M5T 2C2 Canada
About this event
Relocation of Refugees from big cities to smaller towns across Canada.
The Northpine Foundation, in collaboration with CSI, would like to invite you to a community consultation event. The topic will be the relocation of refugees from big cities to smaller towns across Canada.
The objective of this event is to inform The Northpine Foundation's exploration of this topic and to learn from the experiences and expertise of our fellow community members.
We invite you to join us to gain your feedback and insights on 4 main discussion questions:
Who's already doing good work in this area?
Insights about which smaller towns in Canada make good relocation sites
How do we create a sense of belonging for refugees in new communities?
What are other important settlement markers for refugees in new communities?
This session will be hosted in person at the Centre for Social Innovation. To ensure space requirements, the session capacity will be limited to 30. We also encourage you to complete the waiting list form if you are interested in learning more.
Please note: Proof of double vaccination will be required for participants attending and using the space. Lunch will be provided.
Session facilitators:
Bayan Khatib, Impact Manager of Refugee Newcomers Portfolio at The Northpine Foundation
Marcus Huynh, Community Animator at Centre for Social Innovation
About The Northpine Foundation
Northpine Foundation's vision is to propel and expand human-centred innovation in Canada. Our focus is to support communities that encounter economic and social limitations. We achieve this initiative by designing, funding, and partnering on initiatives that improve community flourishing. We combine best practices to invest in bold, new, and untried approaches.
The Northpine Foundation's resources and annual giving capacity rank it as one of Canada's top private foundations. The Northpine Foundation's core value of kindness is exhibited through acting as a professional, innovative, reflective, aggressive, and impactful force of good. We aim to enable Canada's most marginalized populations to thrive. We value voice.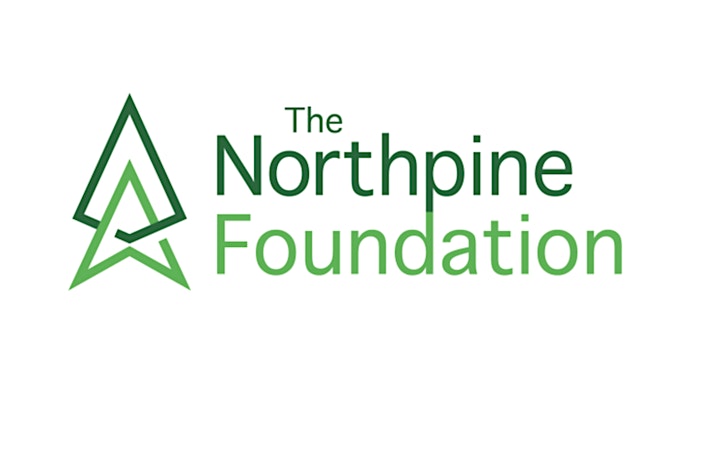 Mission And Purpose
CSI catalyzes, inspires and supports people to create, develop, adopt and integrate new and renewed concepts and practices that put people and planet first. We envision a world where our systems – economy, government, culture and communities – serve to create a healthy, just, resilient & regenerative society full of meaning, equity & happiness.
Our Work
CSI inspires a belief that solutions are possible. We invite everyone, from all sectors and backgrounds, to be a part of the solution because we know that it's up to us to create a better world. We believe that change happens when people decide to make a difference. We don't sit back and wait for things to get better. We're shaping the world now.
Sometimes people see us as an incubator and accelerator, sometimes a coworking space and community centre, sometimes a lab and an innovator. They're all right. At our core the Centre for Social Innovation is supporting a platform and growing a community of social innovators that are building a world that puts people and planet first.