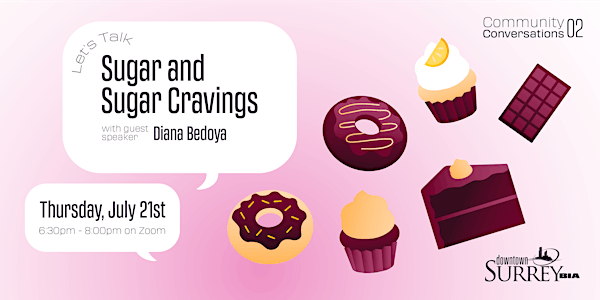 Community Conversations: Sugar and Sugar Cravings
Sales Have Ended
Registrations are closed
Thank you for your interest in Community Conversations: The Gaps in Surrey's Mental Health System. We will be having more Community Conversations this summer. Please make sure to follow our Instagram and Facebook pages below for details on all of our upcoming events.
Join us for a dialogue on a balanced view of sugar and how to avoid overconsumption.
About this event
Is it possible to enjoy foods with a high sugar content while still promoting health in the body? Why do you believe Canadians have a high intake of added sugar?
Join the Downtown Surrey Business Improvement Association for our second Community Conversation taking place throughout the summer!
Community Conversations aims to bring community members to engage in purposeful and meaningful conversation about the future of our community. Previous conversations have included the housing crisis, supporting BIPOC businesses, and food security.
Through a presentation from our guest speakers followed by facilitated discussions, we will be discussing how to avoid overconsumption of sugary items and look at a balanced view on sugar.
Our guest speaker is Diana Bedoya (she/her). Diana Bedoya dreams of a day when we finally realize that our bodies deserve to be celebrated and loved for the marvels they are. As a senior lecturer at Simon Fraser University, she has taught thousands of undergraduates to understand their bodies and care for them in way that lets them still enjoy their lives, while maximizing physical and mental health. She is the author of two nutrition textbooks, delivers one of Canada's only obesity courses and is the co-chair of her department's mental wellness committee. Her mental health advocacy as well as her personal struggles with obesity, binge eating, and poor body image allow her to deliver content in a practical, compassionate and empowering manner; key components of her growing YouTube channel and nutrition, health and weight management classes. By teaching people to love and appreciate their bodies, her ultimate goal is for us to live joyfully in our bodies so we can enjoy our lives more!
How much is a ticket?
Completely free of charge!
Where will the event be held?
Zoom: Link will be sent via email after registration.
**We will have a live transcription service on the side panel in-meeting. If you will be attending and have any needs or accommodations please email Riya at riya@downtownsurreybia.com.
Agenda (PST)
6:30 PM Event begins
6:45 PM Guest Speaker Presentation
7:00 PM Q&A
7:10 PM Discussion 1
7:30 PM Discussion 2
7:50 PM Event Wrap Up
Find out more about our upcoming events through social media!
Instagram @dtsurrey
Twitter @dtsurreybia
Facebook @DowntownSurreyBIA
Website http://downtownsurreybia.com/