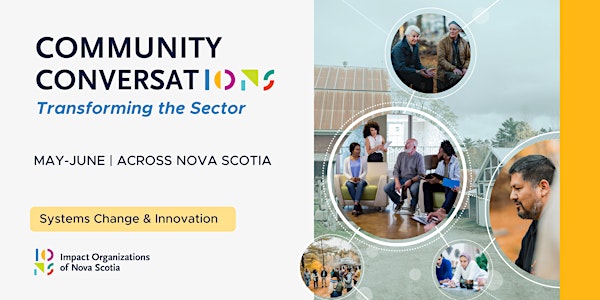 Community Conversations
IONS is hitting the road! Join us for an engaging ideation session around transforming the Community Impact (Nonprofit) Sector.
About this event
Schedule
We're hosting conversations across the province, sign up for a session in your area:
Tuesday, May 24 from 2:30 - 5:00pm | Truro (Truro Library)
Wednesday, May 25 from 9:00 - 11:30am | Amherst (Community Credit Union Business Innovation Centre)
Friday, June 3 from 9:00 - 11:30am | Lunenburg (Lunenburg & District Fire Department )
Tuesday, June 7 from 1:30 - 4:00pm | New Glasgow (Summer Street Industries)
Thursday, June 9 from 9:30am - 12:00pm | Sydney (Eltuek Arts Centre , 2nd Floor, Gallery 209)
Tuesday, June 14 from 9:00 - 11:30am | Halifax (John W Lindsay YMCA )
CANCELLED: Monday, June 13 from 1:00 - 3:30pm | Yarmouth
To register, click 'Select A Date' and then choose the day and time for the session in your area based on the above schedule!
Don't see your community?
We're planning to continue our tour later in the summer with more dates across the province. Stay tuned or reach out to us at hello@ions.ca to find out more!