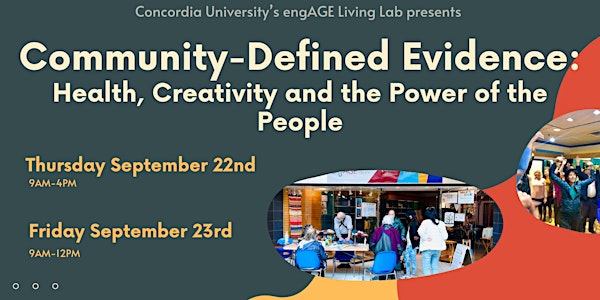 Community-Defined Evidence: Health, Creativity and the Power of the People
A symposium about transformative research practices supporting equity, diversity and inclusion.
When and where
Location
Loyola Jesuit Hall and Conference Centre 7141 Rue Sherbrooke Ouest Montréal, QC H4B 1R6 Canada
About this event
Concordia University's engAGE Living Lab and CREGES present
Community-Defined Evidence: Health, Creativity and the Power of the People 

A symposium about transformative research practices supporting equity, diversity and inclusion.
Concordia University's engAGE Living Lab Créatif offers opportunities for a fruitful exchange of ideas informed by a growing community of older adults, students, and university researchers, in its lab located within the Quartier Cavendish shopping centre in Cote Saint-Luc, Québec.
CREGÉS brings together the worlds of research, professional practice and citizen action around a common project, social gerontology. Social gerontology is a multidisciplinary field of study focused on the social aspects of agin
Community-Defined Evidence seeks to develop an evidence base that uses cultural and/or community indices, to influence the research and evaluation agenda, as well as policymakers and funding agencies, to implement and use innovative community-based practices to reduce disparities and improve availability, quality, and outcomes of healthcare for all individuals and families.
SYMPOSIUM SCHEDULE
DAY 1
8:30-9 Breakfast and Registration
9-9:30 Opening Remarks
9:30-10:15 Morning Keynote Presentation: ​​Community-Defined Evidence: Imagine the Possibilities, Dr. Kenneth Martinez Psy. D., American Institutes for Research & University of New Mexico Health Sciences Center
10:15-10:45 Health Break
10:45-12:00 Morning Lightning Talks:
1.The Necessity of Belonging and its Realization in Community Spaces, Dr. Darla Fortune, Concordia University's engAGE Centre for Research on Aging
2.How Open Science is Transforming Research, Dr. Krista Byers Heinlein, Concordia University & Open Science
3. Art Therapy as a Medical Tool, Dr. Giuseppe Mazza, M.D., Artruisme,
4. Human Support Ecosystems and the Co-development of Smart Homes in Support of Fragile and Isolated Older Adults: A Living Lab in Côte St-Luc, Sandra Smele, PhD Candidate, CREGES, Inclusive Aging, Diversity, Health and Well-Being
12:00-1:00 Lunch (included)
1:00-1:45 Afternoon Keynote Presentation: Working with communities as partners in research – from inception to publication, Dr. Myrna Lashley, McGill University
1:45-2:00 Health Break
2:00-3:15 Afternoon Participatory Lightning Workshop: Shopping Malls as Social Infrastructure for Creativity and Mental Health through a Community Defined Evidence Lens
Guests:
1. Dr. Janis Timm-Bottos, Concordia University's engAGE Living Lab
2. Dr. Najmeh Khalili-Mahani, Concordia University's engAGE Living Lab's Media Spa
3. Yafa Goawily, Cornwall Art Hive
4. Carmen Oprea, PhD Candidate, Concordia University's engAGE Living Lab
3:15-3:30 Closing Remarks
3:30-4:00 Closing Participatory Art Invitation, Arianna Garcia-Fialdini, PhD Candidate
-------
DAY 2
8:30-9 Breakfast
9:00-9:45 Participatory Round Table: Where are we with promoting community defined evidence with funders and policy makers?
9:45-10:00 Health break
10:00-11:45 Creative World Cafe: Bring your own topics of interest and further your ideas informed by Community-Defined Evidence, using dialogue and creativity to generate action steps.
11:45-12:00 Launch of engAGE Living Lab's Mini-Documentary with Film Director Yafa Goawily
12:00 END OF SYMPOSIUM
ACCESSIBILITY INFORMATION:
This is an IN-PERSON event.
The symposium will take place at the Loyola Jesuit Hall & Conference Centre (RF building) on Loyola Campus of Concordia University.
Accessible Directions:
The accessible entrance is located at the 0 Level of the PY (Psychology) building. The PY building connects to the RF building where the symposium will take place. There is also a Transport adapté stop directly in front of this entrance.
The entrance here has a push button to open the door with an elevator located immediately to the right of the entrance. The elevator can be taken to the 1st floor and leads to a hallway with a ramp to access the symposium in the RF building.
Other hallways leading to the RF building have a stair lift with a push button located on the opposite side of the lift to call the lift down, and buttons to operate it on the lift platform.
We will send a PDF with visual directions to the conference space to attendees in advance of the symposium.
Visual directions to the conference centre will be installed inside and outside the building, and greeters will be present on-site to help attendees find the venue.
Washrooms:
The RF building has an accessible, gender-neutral washroom on the same level as the symposium venue.
COVID-19 INFO:
Wearing a mask is no longer mandatory in most university settings. However, it remains an effective tool in reducing the spread of the COVID-19 virus.
Procedure masks and hand sanitizer will be available throughout the symposium. Attendees will be invited to use a sticker system to indicate whether they prefer that others wear a mask or not while approaching them.
ACCESS REQUESTS:
Please let us know if you have any access requests. Send us a message at: engagelivinglab@concordia.ca