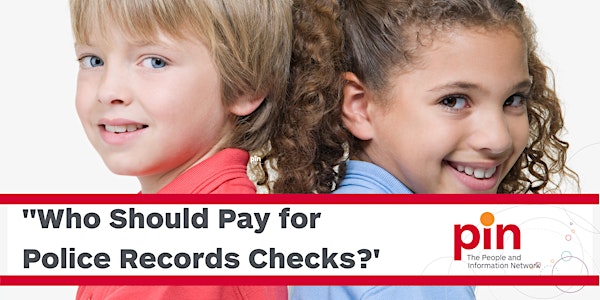 Community Dialogue - Volunteer Police Record Checks
Exploring the Impact of Police Records Checks Costs
When and where
Location
Lakeside Hope House 10 Cork Street East Guelph, ON N1H 2W8 Canada
About this event
PIN invites you to an input session that asks the question:
"Who Should Pay For Volunteer Police Record Checks?"
All those that require volunteers to complete a police check are invited to attend a dialogue to discuss an issue of crucial importance for 2020 and beyond.
As a volunteer or nonprofit/charity we want to hear from you about the impact if fees for volunteer police checks are introduced across the board. We also wish to explore options, such as cost sharing, and what this would mean for your organization, your volunteers and our community.
Join us as we participate in a facilitated discussion led by Rebecca Sutherns.
In preparation for this session, questions/thoughts to consider:
If fees are introduced, who would cover the cost of a police check, your agency or your volunteers?
If your volunteers would be required to pay for their own police check, how would this impact your volunteer program?
Would a fee for a police check impact or alter the way you engage volunteers at your agency?
Would a fee impact your decision to require your volunteers to obtain a police check?
How might you see the cost of a police check ($40) be shared between your organization, your volunteers and the Guelph Police Service?
Please come prepared to share your thoughts.
This Community Input session is free to participate. Please register so we may be prepared for your involvement.