Description
1:30pm Newfoundland, 1pm Atlantic, 12pm Eastern, 11am Central, 10am Mountain, 9am Pacific
Join us for this exclusive discussion, co-sponsored by Thrive, the Calgary CED Network and Calgary Economic Development
Background
C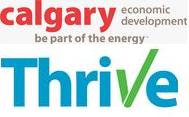 ommunity Economic Development Investment Funds are pools of capital, formed through the sale of shares (or units), to persons within a defined community, created to operate or invest in one or more local businesses.
The Nova Scotia Equity Tax Credit encourages local residents to invest in small businesses through CEDIFs with a personal tax credit of 35 per cent. Over the 14 years of their existence, CEDIFs have grown from an untested concept to a proven model for community capital development that now manages more than $50 million in 48 funds, all raised from local individuals. The model has been transferred to Prince Edward Island and other provinces have also expressed interest.
Presenters
Chris Payne, Government of Nova Scotia
Chris is Investment Manager for CEDIFs with Nova Scotia Economic and Rural Development and Tourism. He is a professional accountant (CMA) and has completed the Canadian Securities Course and the CICA in-depth GST/HST program. He is also on the National Board of Examiners for the CMA. He has been with the CEDIF program since before it began and promoted the investment tool throughout the province and internationally.


Logistics
Date: August 13, 2013

Webinar begins at 12:00 pm Eastern time, for 1 hour

The session will begin with a presentation by Chris, followed by an interactive question and answer period facilitated by CCEDNet Executive Director Mike Toye. Participants who register early will be able to send questions in advance of the session.

This session is in English.

You will need speakers or a headset on your computer to participate. To ensure your system will be compatible with our webinar platform, try this connection test or look at the Adobe Connect quick start guide prior to the session.
Cost
CCEDNet Members
Non-Members
Free.
Please click here to email us for your discount code. Once you have it, you can register at the link below.
$20
Become a member!
Or register directly at the link below
Additional Resources