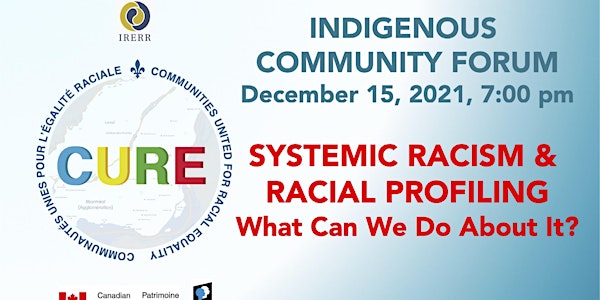 Community Forum on Racism and Racial Profiling of Indigenous Peoples
Community Forum on Systemic Racism and Racial Profiling of Indigenous Peoples
About this event
MODERATOR:
Fo Niemi, CRARR Executive Director
RESOURCE PEOPLE:
Nakuset, Executive Director, Native Women's Shelter of Montreal
Stephen Puskas, Urban Community Liaison Officer, Makivik Corporation
Nikki Baribeau, Student activist, Bishop's University
FORUM FOCUS
As part of its project on community mobilization against racial profiling in education, police and justice, and youth protection, funded by the Department of Canadian Heritage, the Institute for Research and Education on Race Relations (IRERR) invites members of the Indigenous communities in the Greater Montreal Area (GMA) to participate in this Community Forum on Systemic Racism and Racial Profiling of Indigenous peoples to:
-Share lived experiences
-Define the issues & needs of Indigenous persons and communities
-Propose solutions, ways and means to achieve change
Outcomes of the forum discussion will help IRERR develop an action plan to identify, reduce and prevent racial profiling and discrimination against Indigenous persons in the GMA.
The focus is on systemic racism and racial profiling faced by the Indigenous community in the youth protection, education and policing/justice sectors. Issues to be discussed at this Forum include:
-Systemic racism and racial profiling in the policing/justice sector including:
Disproportionate targeting of Indigenous persons, especially women, by police during random street checks;
Cultural barriers in the justice system, due in part to the under-representation of Indigenous people;
-Systemic racism and racial profiling in the education sector including:
Disproportionate sanctions and disciplinary measures against Indigenous children and heightened scrutiny of Indigenous students for "security" purposes.
Abusive reporting of Indigenous students by school authorities to youth protection and the police, making schools into pipelines to prisons or youth protection
-Systemic racism and racial profiling in the youth protection sector including:
Differential treatment and heightened scrutiny of Indigenous children and families, especially mothers, by caseworkers when assessing the child's situation, when making decisions to refer cases to the courts, and when making decisions to maintain youth protection services;
Lack of accurate data collection based on race and Indigenous status, resulting in underreporting and misclassification of Indigenous children and families being reported to and placed with the DYP;
Discriminatory treatment of Inuit children and families who are discouraged from speaking their first language of Inuktitut when on supervised visits;
FORUM AGENDA
Moderator's Presentation of goals and format (5 minutes)
Introduction of resource people (5 minutes)
Presentation by resource people, of key issues: 10 to 15 minutes each (30 minutes)
Discussions with calls for action (75 minutes)
Wrap up (5 minutes)