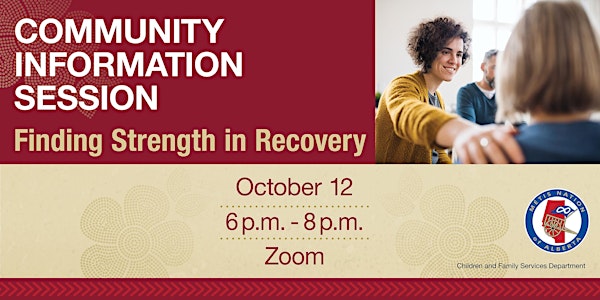 Community Info Session: Building Strength in Recovery
Addictions & mental health often go hand in hand, complicating the road to recovery. Learn how to break the link & find your strength
About this event
Addictions and mental health concerns often go hand in hand, complicating the road to recovery.
Learn how to break the link and find your strength at our Community Information Session: Finding Strength in Recovery on Oct. 12, with addictions counsellor Darin Flemmer.
In his presentation, Darin will discuss his role as an addictions counsellor and reflect on the challenges his clients face. He will share information about prevention, harm reduction, and treatment services provided by Alberta Health Services and the need to increase collaboration with families and community services. Darin will also talk about dual diagnosis and concurrent disorders using a Person-Centred Treatment focus. Caregivers and loved ones of those with addictions and mental health concerns are also welcome to attend.
Have questions? Reach out to Laura at lhughes@metis.org
Speaker Bio:
Darin Flemmer started his career working in Athabasca with Family and Community Support Services (FCSS) as a Family School Liaison Worker. He later became the Executive Director of FCSS, managing a wide range of community programs within the County of Athabasca. He has been a social worker for over 30 years and is currently working as an addictions counsellor for Alberta Health Services (AHS) in Barrhead.
In his 17 years with AHS, he has gained extensive experience working with people who are affected by homelessness, mental illness, developmental disabilities, Fetal Alcohol Spectrum Disorder (FASD), and relationship violence. Darin has been a volunteer board member and board chair for Healthy Families Healthy Futures Program, which provides home visitation, FASD mentorship, and other family support programs in North Central Alberta.