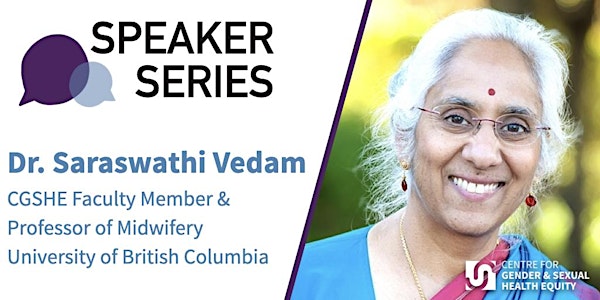 Community-led Solutions: Advancing Equity and Justice in Perinatal Services
CGSHE Speaker Series presents Dr. Saraswathi Vedam's talk on community-led solutions to advancing equity and justice in perinatal services.
By Centre for Gender and Sexual Health Equity (CGSHE)
Date and time
Thu, Feb 17, 2022 12:00 PM - 1:00 PM PST
About this event
Community-led Solutions: Advancing Equity and Justice in Perinatal Services
ABOUT THE SPEAKER
Poor access to respectful care has emerged as a critical factor associated with adverse health outcomes. Recent research highlights that historically oppressed and marginalized populations are more likely to experience barriers and mistreatment when accessing or receiving care. People with lived experiences of care are increasingly acknowledged as the "experts" who are best positioned to inform patient-oriented, community-responsive research, knowledge translation, and quality improvement.
Dr. Vedam's community participatory action research projects aim to study perinatal services through an equity lens. In her current national study, RESPCCT, over 6000 service users with a broad range of identities, circumstances and backgrounds, report on their experiences of respectful, kind, exceptional care as well as discrimination, disrespect and mistreatment during childbearing care. Dr. Vedam will discuss emerging findings along four themes: anti-oppressive policy and practice; access to culture-centered care; person-centred quality measurement; and restorative, reproductive justice.
ABOUT THE SPEAKER
Dr. Saraswathi Vedam (she/her) Dr. Saraswathi Vedam (she/her) is a CGSHE Faculty Member, Lead Investigator of the Birth Place Lab and Professor of Midwifery at the University of British Columbia. Her scholarly work includes several participatory action research projects on health equity. The Giving Voice to Mothers Study was the first national study to report significant differences by race, type of provider, and place of birth in experience of mistreatment in the US. She worked with service users to develop 3 new quality measures: the Mistreatment in Childbirth (MIST) index, the Mothers' Autonomy in Decision Making (MADM) scale and the Mothers on Respect (MORi) index, which received the 2017 National Quality Forum Innovation Prize. These accountability tools have now been applied in 23 countries at the institutional, system, and country levels.
Dr. Vedam also led the Access and Integration Maternity care Mapping (AIMM) Study that examined the impact of integration of midwives on maternal-newborn outcomes in the US. She is currently the PI for the RESPCCT study examining experience of childbearing care across Canada, with a focus on amplifying voices of communities that are seldom heard. Over the past 30 years, Professor Vedam has been active in setting national and international policy on place of birth, midwifery regulation, and interprofessional collaboration. She convened 4 national transdisciplinary Birth Summits to increase equitable access to quality care in the US.
ABOUT THIS EVENT: The Centre for Gender & Sexual Health Equity Speaker Series brings cutting-edge research in the field of gender and sexual health equity to researchers, practitioners, students and interested members of the public, creating a unique opportunity for education and dialogue.
FINALLY: Currently, our event is only available in English, which we recognize is a colonial language. We acknowledge that language should not be a barrier to participation and we hope to host our Speaker Series in various languages in the future, based on participants' needs and as resources allow.