An ongoing series Community Conversations for Community Living Brant staff to explore questions that matter to you.
About this event
What If We Build a Community in Which All of Us Are Valued and Able to Express Feelings Freely?
We can cultivate a life-giving culture and discover each other's gifts
When we come together and share in thought and conversation, we discover we are full of gifts and capacities. This is the path to remaining a progressive agency, a front runner within our sector. Fostering strength within as a team, by each of us taking an active role in making a wonderful experience for everyone, we can all feel heard and supported and learn from each other as we create a new space where we can learn and grow. We'll be able to take bigger risks, think out of the box, trust, see a clear path, and be more joyful and creative.
We are creating new conversation spaces where we can connect and feel valued, and you are invited! Our plans are to offer these spaces consistently, every two of weeks.
Each conversation will be shaped by what we are experiencing and sensing is important to explore together.
We'd love it if you would join us for any one or all of these gatherings. We are hosting on Zoom.
Our first gathering is on:
Tuesday, November 9, 3:00 – 4:30 PM
Save the date!
Register on this page to receive the link and further details about emerging topics.
If you would like to experience:
A safe place to explore new ideas
Genuine connection with staff and peers
Open dialogue
The magic of a triad
Reaffirm your goals, learn, and pass on your knowledge
Feeling supported and listened to
A fresh and creative space
Feeling less hurried
Letting go
Shift in work culture
If so, these conversations might be for you. These are purely invitational, there is no pressure to come! Feel free to join us for one, a few, all, or none!
If you have any barriers to participating please reach out to your supervisor, Rishia Burke, or Sarah Collyer.
If you do choose to join us, we ask that you:
Arrive on time and commit to being fully present for the whole gathering
Come prepared to listen to and learn from others
Be ready to share your stories and gifts
YOU MUST REGISTER IN ORDER TO RECEIVE THE LINK FOR THESE ZOOM CALLS.
This event is supported by Axiom News. If you have any questions, write to events@axiomnews.com.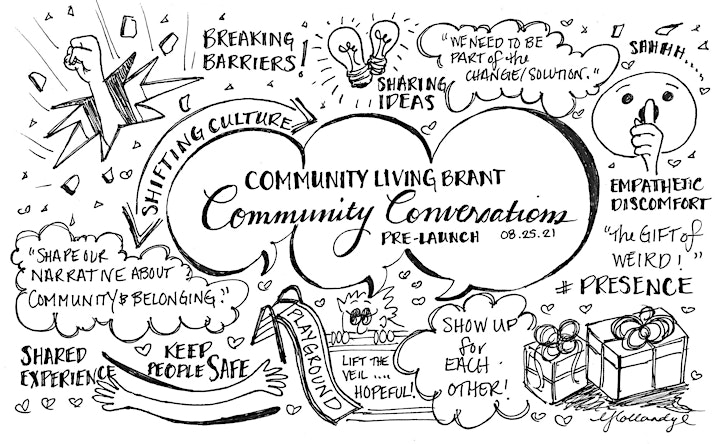 Organizer of Community Living Brant Community Conversation