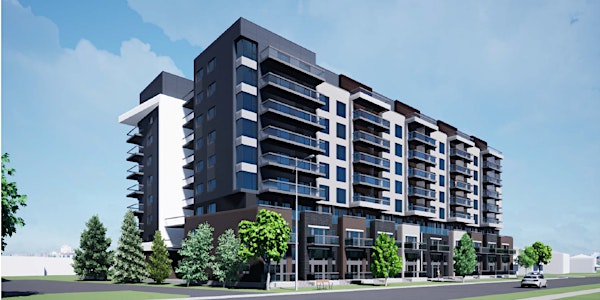 Community meeting / Consultation publique - 98 & 100 Bearbrook Road
Community meeting for a site plan control application / Rencontre pour une demande de réglementation du plan d'implantation.
About this event
A Site Plan Control application to construct a 9-storey mid-rise apartment with a total of 168 residential units (159 apartment units and nine townhouse units) comprising a 14,674 gross floor area (GFA), with 209 motor vehicle parking spaces (25 surface and 184 underground) and 84 bicycle parking spaces (42 surface and 43 underground).
--------------------------------
Demande de réglementation du plan d'implantation ayant pour objet de permettre la construction d'un immeuble résidentiel de neuf étages (hauteur moyenne) abritant au total 168 logements (159 appartements et neuf unités en rangée). Cet immeuble couvrirait une surface de plancher hors oeuvre brute (SHOB) de 14 674 mètres carrés et serait assorti de 209 places de stationnement pour véhicules (25 en surface et 184 en sous-sol) et 84 places de stationnement pour vélos (42 en surface et 43 en sous-sol).