Community MicroSkills Development Centre JOB FAIR!! Feb. 22, 2017 10AM - 2P...
Description
JOB FAIR!!! Full-time and Part-time Positions •Business • Financing • Accounting • Customer Service• Sales • Warehousing • Engineering • Distribution Centres • IT Specialists • Telemarketing • Credit Counselling • Education • General Labour • and more!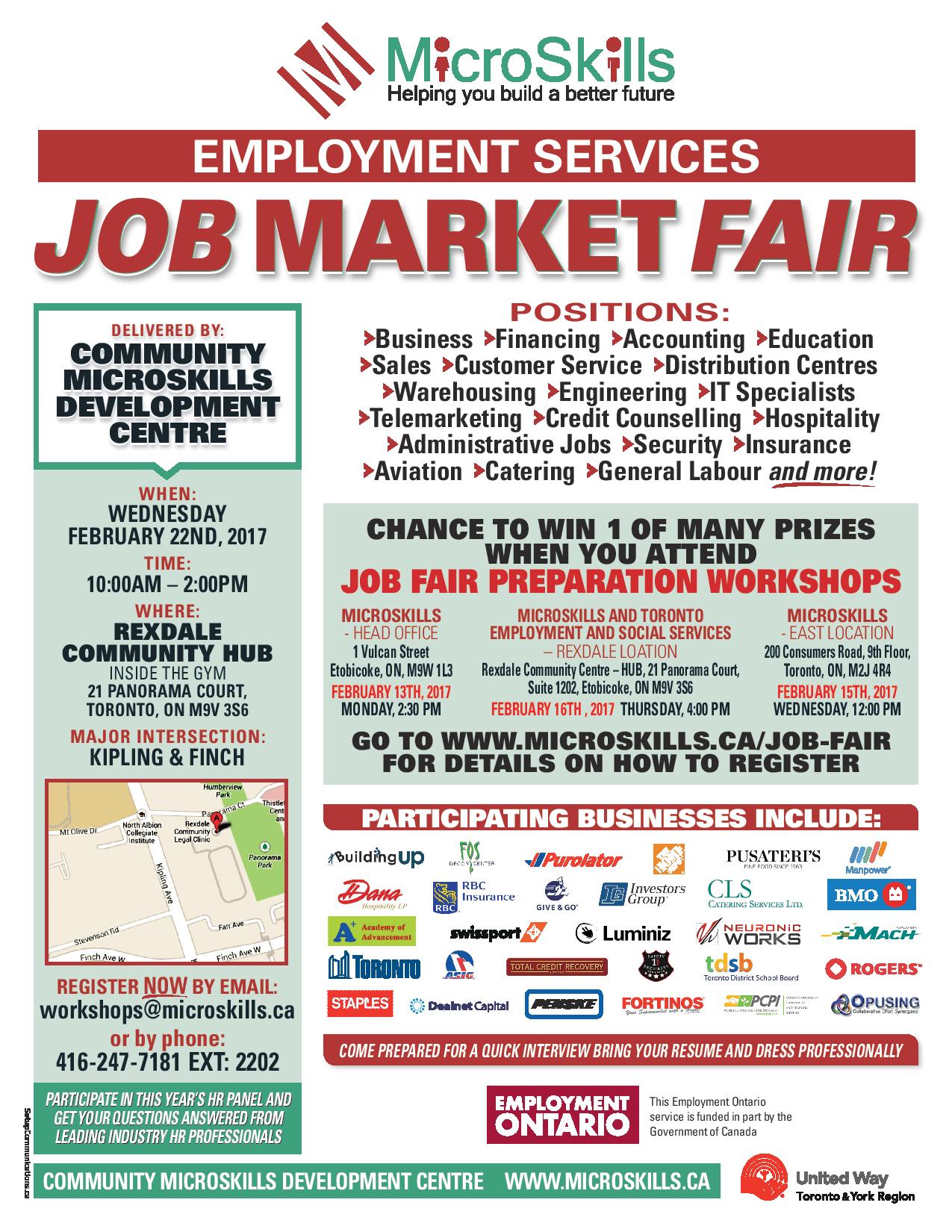 We have 26 employers registered to attend this spectacular hiring event. Please see the list of job opportunities below and as always, please be sure to share this with your clients and community contacts.
16 week full-time paid program; Paid Pre-Apprenticeship Training
FOS Décor Centre- Full-time and Part-time:
Warehouse Workers; Event Decorators; Customer Service Representatives
The Home Depot Full-time and Part-time:
Pro Sales; Overnight Freight; Cashiers; Sales
Purolator Part-time - various shifts:
Sorters; Drivers;
Customer Service Representative; Data Entry Clerk; General Labour
Pusateri's Part-time and Full-time

Cashiers; Meat Clerks; Produce Clerks; Grocery Clerks; Pastry Clerks; Deli/Cheese Clerks; Line Cooks
Prep Cooks; Dishwashers
RBC Insurance- Full-time:
Auto, Home, Health Insurance Advisors - Licensing not required; Customer Service Agents
View Website;
Investors Group -Full-time:
Financial Advisors;
Give and Go Bakery -Full-time
Customer Service Representative; Production Mixer; Accounting Manager; Refrigeration Technician
Marketing Administrator; Sanitation Technician; Quality Assurance Technician
CLS Catering-Full-time and Part-time:
Catering Assistant (Food); CA (Non Food – Bond) Lead Hand;Food Expeditor; Storeman Load Control
A+ Academy of Learning -Full-time:
Pre School Supervisor
Neuronics Works -Full-time:
Hardware Design Specialist; Int/Sr Embedded --Developer/Firmware Designer
Swissport-Full-time and Part-time:
Passenger Service Agent; Ramp Service Agent
Dana Hospitality Full-time:
Food Services Associate; Cook;
City of Toronto Full-time and Part-time:
Go to: www.toronto.ca/eos
General Warehouse Worker
Safety 1 Security Full-time and Part-time
Security Guards
Rental Representative; Customer Service Representative; Truck Driver; Truck and Coach Mechanic;
Forklift Operator
ASIG Aviation Company-Full-time
Truck and Coach Mechanic (310T); Operations Supervisor – Fuelling; Fueler; Mechanic Apprentice
Total Credit Recovery Full-time and Part-time:
Junior Collections Agents; Collections Officer
Rogers Communications- Full-time:
Field Agents
Warehouse Workers
Mach Tech Systems Full -time
Junior Business Analyst
Toronto District School Board ( Next Steps Employment Programs)
Full-time 8 to 11 week programs
Construction Pre-apprenticeship Program;Youth in Food Processing; Retail Foundations for Leadership
Full-time 15 week program; Retail Leadership
Dealnet Capital-Full-time
Call Center Customer Service Representatives; Bilingual Customer Service Representatives
Delivered by:
Community MicroSkills Development Centre
When: Wednesday Wed. Feb 22, 2017
Time:10:00AM – 2:00PM
Where: Rexdale Community Hub -Inside the gym-
21 Panorama Court. Toronto, ON M9V 3S6
(Major Intersection: Kipling & Finch)
Or by phone: 416-247-7181 ext. 220
Come prepared for a quick interview
Bring Your Resume and Dress Professionally
Funded by Employment Ontaraio (this Employment Ontario service is funded in part by the Government of Canada)