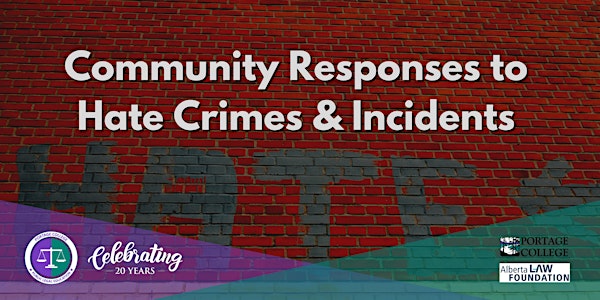 Community Responses to Hate Crimes & Incidents in Alberta
The session will provide attendees with a greater understanding of hate crimes and why we need to report.
About this event
Portage College Public Legal Education Program and the Alberta Hate Crimes Committee invite you to attend a FREE workshop which will take participants through a process of understanding the historical foundations and impacts of hate, to gaining awareness and knowledge about the legislation around hate crime and providing strategies and tools on how to respond to hate at a community level.
Through this workshop, participants will explore:
The distinction between hate incidents and hate crimes
Hate Crime legislation in Canada
Challenges in addressing hate crimes and incidents
Bias Awareness indicators
Community responses to hate
The #STOPHATEAB.CA initiative and documenting and reporting Hate Incidents in Alberta.
Zoom log-in details will be emailed the day before the event. Please check the email you registered with for these instructions.