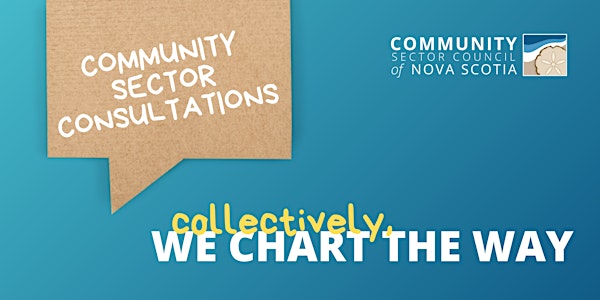 Community Sector Consultations - SOUTH SHORE Region
Community Sector Regional Consultations provide an opportunity for you to give voice to the topics that are important to you!
When and where
Location
NSCC Lunenburg Campus 75 High Street Room C112 Bridgewater, NS B4V 1V8 Canada
About this event
As part of the process for the CSCNS's new strategic plan, we are excited to host 6 regional community sector consultations.
These consultations are designed to bring the sector together to share and to celebrate its richness, its importance, its diversity, its potential, and its impact on the social and economic well-being of communities across Nova Scotia. They will also be an opportunity for you to give voice to the topics that are important to you.
These consultations will allow us all to lift our gaze from our day to day work and view the sector from a broader perspective. Our goal is to collectively identify current and emerging issues that we need to engage within the next three to five years in order to thrive. Your participation is essential to help the CSCNS develop new strategic directions and priorities and to work purposefully with and on behalf of the Community Sector provincially. We hope to have a multitude of voices in the room to ensure we are hearing from diverse cross-section of perspectives and experiences.
We encourage key members of leadership teams and especially emerging leaders and representatives from traditionally marginalized communities to attend. Sharing inter-generational and diverse perspectives will enrich the conversations and deepen our appreciation of emerging challenges.
Come early to register and network over coffee or tea. Session begins promptly at 1pm.
Collectively, we chart the way!