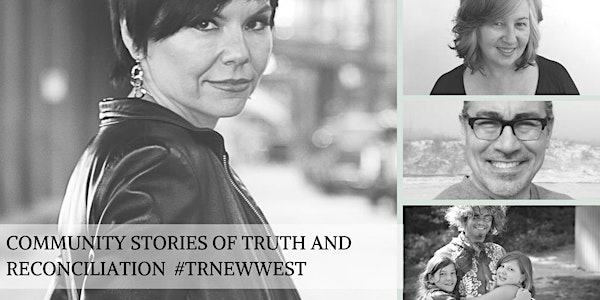 Community Stories of Truth and Reconciliation
When and where
Location
Anvil Centre Theatre (3rd floor) 777 Columbia Street Unceded traditional land of the Qayqayt and Coast Salish people New Westminster, BC V3M 1B6 Canada
Description
Free. All welcome. Free child-minding available. Accessible venue
We welcome you to this thoughtful and insightful community conversation on reconciliation and how community groups, volunteer boards, institutions and individuals can join in on the ongoing process.
Performance by Eden Fine Day at 6:00 pm. Panel begins at 6:30 pm.
Our event is free however we are accepting donations to help us cover our costs and in order to make a financial contribution to Spirit Of The Children, our local First Nations Support and Healing Organization.
Panel moderator: Dave Seaweed, Aboriginal Coordinator
Panelist includes:
Harlan Pruden
Harlan is First Nation Cree/nēhiyaw and a UBC Ph.D. student, Managing Editor of Two-SpiritJournal.com and serves as a Two-Spirit consultant to the BC CDC's Chee Mamuk Program and the newly formed Trans Care BC. He is also a Presidential Advisory Council on HIV/AIDS member who provides advice, information, and recommendations to the Secretary of Health & Human Services and the White House.
Tuy't'tanat - Cease Wyss
Skwxwu7mesh/Sto:Lo, Cease is Coast Salish of mixed cultures with Polynesian and European cultures. Her focus has been nurturing cultural handshakes with diverse communities through art, culture and technology. She is a media artist and ethnobotanist who has participated in international and local projects that address community engagement and public intervention. Cease is a grandmother/mother/daughter/sister /granddaughter who strives to nurture stronger and more positive views of women.
Natasha Webb
Natasha is the President of the Aboriginal Student Collective at Douglas College and has been building strong partnerships throughout the institution in order to plan and encourage Aboriginal students to participate in traditional cultural practices on campus. The Collective plans the Sisters in Spirit Lantern Vigil, an annual event of remembrance for missing and murdered Indigenous women across Canada. She will be speaking about her efforts to Indigenize the college experience.
Josh Dahling
Josh is a member of the Squamish Nation and is Head of Operations for Camp Kerry, an organization dedicated to providing support and programming to address grief and loss. By approaching this work through a cultural lens, Josh provides insight on the impact of colonization and the reconciliation process towards healing with an open heart.
A moderated Q & A will follow the panel's presentation. Bring your questions and your commitment.
Please help us spread the word by downloading and sharing our poster for this event. You can visit the project's website at www.trnewwest.com to find out more.
We would like to thank our partners on this project:
The City of New Westminster
New Westminster Museum and Archives
Arts Council of New Westminster
New Westminster Libraries
QMUNITY
Northern Engagement
Truth and Reconciliation Canada
Community Volunteer Connections