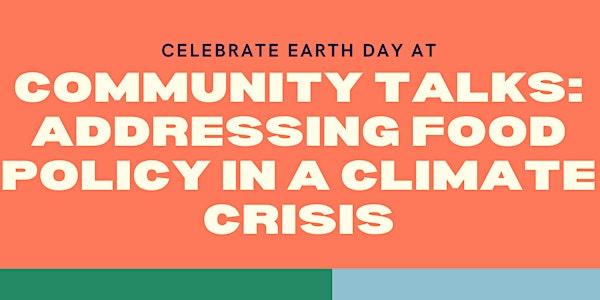 Community Talks: Addressing Food Policy in a Climate Crisis
Location
Mount Pleasant Neighbourhood House
800 East Broadway
Vancouver, BC V5T 1Y1
Canada
Join Seth Klein and other local climate and food experts to talk about how climate change is affecting our food system!
About this event
Hosted by the Vancouver Food Policy Council and Mt. Pleasant Food Network, author and activist Seth Klein will speak to the community about his latest book A Good War: Mobilizing Canada for the Climate Emergency. Seth will share how to address the climate crisis with a "wartime approach" and how government policies could galvanize our communities to work together.
Following his talk, we invite panellists to speak to the climate affects on our food system in the Lower Mainland, and to develop solutions together. After seeing the impacts of climate change in our backyards last year, it's time to understand more fully how we need to adapt and what needs to change within our food system.
Below, please find the bios of our panellists, speakers and host for the evening.
Dr. Yildiz Atasoy is a Professor of Sociology at Simon Fraser University and a Associate Faculty member of the School for International studies and Department of Geography. Dr. Atasoy served as Director for the Centre for Sustianable Development at SFU. She is extensively published with a variety of books, and in peer-reviewed journals and edited volumes. Dr. Atasoy's research interests are in long term historical changes in the world economy and the state system as well as the social, political, economic and cultural dynamics that underlie them.
Seth Klein is the Team Lead and Director of Strategy of the Climate Emergency Unit (a 5-year project of the David Suzuki Institute that Seth launched in early 2021). Prior to that, he served for 22 years as the founding British Columbia Director of the Canadian Centre for Policy Alternatives, a public policy research institute committed to social, economic and environmental justice. He is the author of A Good War: Mobilizing Canada for the Climate Emergency (published in 2020) which we will hear about today, and writes a regular column for the National Observer. Seth was hired to open the CCPA's BC Office in 1996. Under his direction, they publish regular research reports on topics such as taxes, poverty and inequality, labour policy, the future of BC's resource sectors, climate change, health care, public education, international trade agreements, the BC economy, and much more. The CCPA–BC has become an important and visible source of policy analysis, and has brought much-needed balance to public policy debates in BC.
Eleanor Boyle is a Vancouver-based educator and activist for food that is sustainable, healthy, and just. Her forthcoming 2022 book is Mobilize Food: Wartime Inspiration for Environmental Victory Today, (mobilizefood.org) and in 2012 she published High Steaks: Why and How to Eat Less Meat. For the climate crisis, Eleanor promotes mandatory limits on emissions-intensive consumption https://bit.ly/3Bhba9h, She blogs at eleanorboyle.com
Jordan Bultitude (they/them) is the Food Justice & Poverty Reduction Analyst at Gordon Neighbourhood House and a volunteer Donations Coordinator with the Vancouver Community Fridge Project. They are working to develop a place-based food security strategy through community-based research, analysis of the food policy landscape, and collaboration with local businesses, organizations, and community members. Jordan is passionate about food system planning, mutual aid & community care, and agricultural workers' employment rights.
Krystine McInnes is a pioneering entrepreneur, executive and Thought Leader in Sustainable Business, Sustainable Development and Local Food Systems. She has an insatiable passion for social venture and leading change through sustainable business which has led her into organic food production and local food systems. She is the Director of Grown Here Farms for the past 6 years, one of the largest organic vegetable farms in it's region with over 60 acres, located in the South Okanagan, BC and feeding over 1.2 million Canadians, mostly in the Lower Mainland, annually. Not only is climate change a serious issue to Krystine, but she has directly experienced 4 forced evacuations due to climate disasters in the past 4 years, including 2 major "1000 year" flood disaster events that have severely impacted her operations. She speaks from the direct experience of dealing with climate issues, disaster mitigation and recovery in farming and the gritty and difficult realities on the ground of how to navigate insurance, finance, government and the impossible task of recovery from disaster level events in organic farming and what it means to our food security and food sovereignty for the future.
Niki Sharma is a provincial politician and lawyer, who was elected to the Legislative Assembly of British Columbia in the 2020 BC general election. She represents the Vancouver-Hasting district as a member of BC's New Democratic Party. Prior to her election to the legislature, Sharma served as vice-chair of the board of directors for Vancity since 2016, a Senior Oil and Gas Campaigner for Stand.earth, an environmental organization. She is also a past chair of the Vancouver Parks Board.