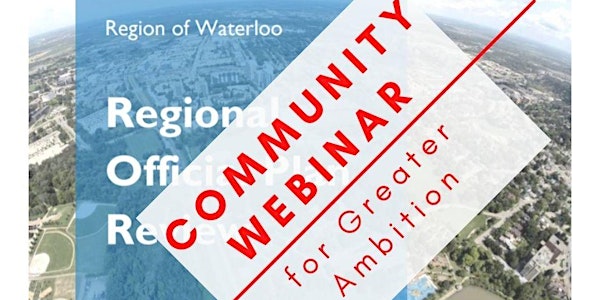 Community Webinar on Growth Plan for Waterloo Region
Ensure Your Voice is Heard on the WR Growth Plan. Our Region needs to be more ambitious. Protect our farmland, protect our community.
When and where
Date and time
Mon, Nov 15, 2021 4:00 PM - 6:00 PM PST
About this event
Our Regional Official Plan is the long-term planning document that sets the foundation for our Region. It decides where and how we will grow, what we will protect, what will be destroyed, and what our community will look like in 2051. It reflects our priorities and will shape our urban cores, neighbourhoods, and countryside.
With a July 1, 2022 deadline mandated by the provincial government we only have a short time to speak up to develop an ambitious plan that will address our climate crisis and ensure Waterloo Region remains a Smart Growth leader with thriving farmland for local food and groundwater recharge, balanced by vibrant, sustainable urban areas.
Regional Staff and Council is facing considerable pressure from land speculators and developers with initial drafts of the plan falling far short of the expectations of citizens and community groups.
It is urgent for people from all walks of life throughout Waterloo Region to let elected officials know the future you would like to see. Once this plan is submitted it becomes permanent with no ability or opportunity for changes until 2031 - well after we will have had to meet our Paris Accord targets.
It is time for us to mobilize our collective voices and ensure the Region of Waterloo Council knows that we expect greater ambition and action. Please join us for this community webinar on Monday, November 15th at 7:00pm to learn more about the Regional Official Plan, next steps and how you can ensure that your voice is heard, helping to define the future that you want to see.
Watch the Nov 9'th council meeting to hear community members discuss the imporance of setting more ambitious goals. Click here
Read reports and updates about the Regional Growth Plan on EngageWR. Make sure you sign up for their mailing list so you don't miss any additional news!
Event Agenda
7:00 pm - Welcome and Introductions.
7:05 pm - Regional Official Plan Overview and Current Status - Kevin Thomason, Vice-Chair, Grand River Environmental Network
7:35 pm - Advocacy 101 - Effectively Communicating to Elected Officials - Stephanie Goertz, Director 50x30WR
8:00 pm Questions and dscussion - Ensuring citizens are heard, next steps, collaboration across our community
8:25 pm - Upcoming events and conclusion
Their recommendations for Regional intensification are set to 60%. At this rate, it will require more than 1,000 hectares of local farmland and greenspace to be destroyed and paved over for unsustainable urban sprawl over the next 30 years.
Share the Message!
Invite others you think would be interested in our community to this event. It is important that we all speak up for the future that we want to see.
This event is being organized by the Nith Valley Ecoboosters, the Grand River Environmental Network, 50by30WR and Smart Growth Waterloo Region. We welcome future involvement by other groups. We are stronger together.
Join the mailing lists to stay up to date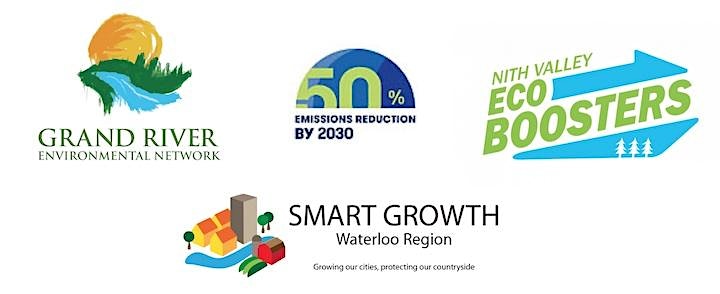 About the organizer
50by30WR is a grassroots, community-led campaign advocating for Waterloo Region to commit to a 50% reduction in community-wide greenhouse gas (GHG) emissions by 2030, in line with the imperatives of climate science and centering social justice and well-being. For more information and to get involved, visit: www.50by30wr.ca/