Community Week: Finding a Way Home - Working on Healing Homelessness
Description
February 2019: To bring attention to the issues of homelessness and addiction, the Dock - Centre for Social Impact will host a COMMUNITY WEEK with three inspiring events, which are all free of charge.
Finding a Way Home - Working on Healing Homelessness
theDock will host screenings of two independently produced documentaries US AND THEM, and TRICKLE DOWNTOWN, and presenting a reading of Nothing'S FOR NOTHING.
This event week is made possible with the support of Vancity and CineVic. THANK YOU!


Donations at the door will support the Our Place Therapeutic Recovery Community.
Feb 20, 7 – 9 pm - US AND THEM – screening
SYNOPSIS
Filmed over a decade, US AND THEM is a deeply visceral film about transformation through human connection. It all begins when filmmaker Krista Loughton is questioned by addiction expert Dr. Gabor Maté about her need to relieve pain in the world. This takes her back in time when she befriended four chronically homeless people in an effort to help them heal their lives.
Under the mentorship of Hereditary Chief Phil Lane Jr., Krista decides to teach her friends how to balance on the First Nations Medicine Wheel. In the beginning, there is connection and hope, but unfortunately, none are able to conquer their addictions or significantly change their lives. And then tragically, one dies. Out of her league, Krista seeks out the counsel of Dr. Maté, who forces her to confront her own motivations. Krista confesses her own emotional struggles with her remaining street friends. They display an extraordinary empathy and wisdom no one could have anticipated.
The Dock - Centre for Social Impact is joining US AND THEM's national efforts to raise awareness about housing and caring for people who are living outside on our streets. At a time when Canada is in the midst of both a housing and opioid crisis, a national effort to raise awareness about homelessness and addiction through a compassionate lens has never been more relevant.
Filmmaker Krista Loughton will be in attendance for a Q&A session after the film.
Feb 22, 7 – 9 pm - NOTHING'S FOR NOTHING - TRANSFORMATION THROUGH TRAUMA – reading
Rebekah Demirel will read an excerpt from her haunting memoir, Nothing's for Nothing, she reveals a childhood of adversity and neglect. Rebekah takes us on a soulful journey of heartbreak, loss and grief, her own difficult homeless teen years, and the resiliency gained from those experiences. Providing inspiring messages of hope, healing, forgiveness and personal transformation.
Copies of the book will be available for sale during the event.
February 27, 7 – 9pm - TRICKLE DOWN TOWN – screening

SYNOPSIS
A new documentary film about the homeless crisis in Seattle. TRICKLE DOWN TOWN takes an up-close look at homelessness in Seattle. There are in-depth interviews with homeless people and visits to local homeless camps, including Camp Second Chance here in West Seattle. Also shown are people who are working hard to help their homeless neighbors. Deftly interweaving in-depth stories of community members who are living the crisis on the streets with interviews of political leaders and community advocates, vivid images of the current state of affairs and a poignant examination of the roots of homelessness in the region, Biernacki paints a picture of a city struggling to come to grips with an unprecedented emergency, and finds a few glimmers of hope.
The filmmaker, Tomasz Biernacki, says, "I have discovered that most people have uneducated, knee-jerk reactions and false beliefs . . . about the homeless. They see the tents, the RVs, the addicted people who have untreated mental and physical health issues, and instead of doing something to help their neighbors, they degrade, cast away, and add insult to injury . . . I want people to see that there are concrete, simple steps people can take every day to help the situation. . . It's going to have to be a grassroots effort."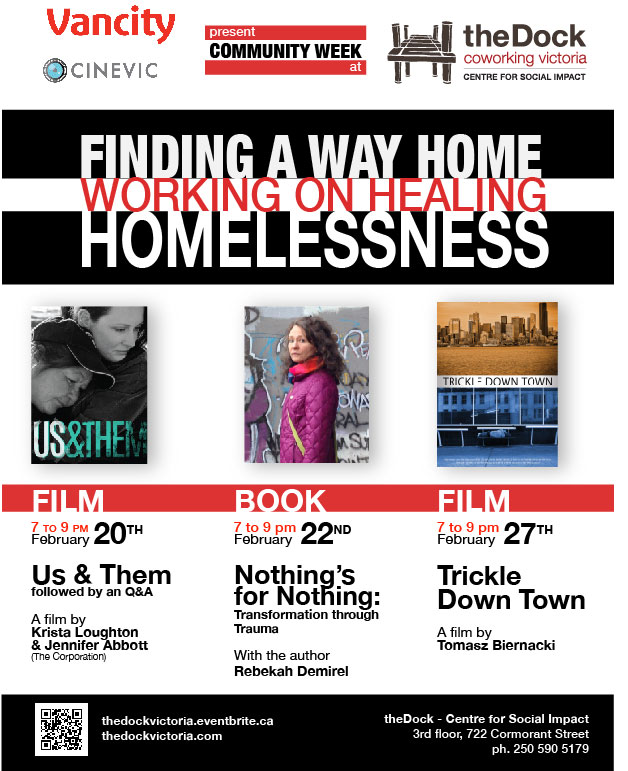 What are my transportation/parking options for getting to and from the event?
Metered street parking upfront. Parkades are the one of the Hudson Market and Centennial Square (both on Fisgard)
What can I bring into the event?
You can bring your own bevies and snacks. We will provide pop-corn.
How can I contact the organizer with any questions?
Please, feel free to drop us an email at hello@thedockvictoria.com