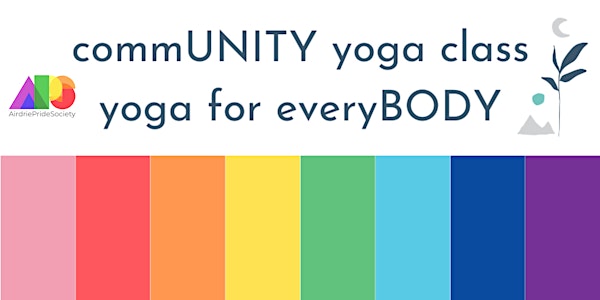 commUNITY yoga class
Airdrie Pride Society and The Yoga Junction presents commUNITY yoga class, an inclusive yoga class for the adult 2SLGBTQ+ community.
When and where
Location
The Yoga Junction 520 1 Avenue Northeast Airdrie, AB T4B 1R1 Canada
About this event
Join us for an afternoon of meditation, finding inner peace, and yoga mats. Airdrie Pride Society is partnering with The Yoga Junction for an inclusive yoga class. During this one hour class, you will have the chance to relax, learn basic yoga and breathing techniques, or just chill on your mat. This is a free event. In order to participate, you must sign a waiver found in The Yoga Junction's app - please see Additional Details below.
As a Board, one of our driving beliefs is that people in the 2SLGBTQ+ community should not have to leave their community to find their community. We believe community events like this are a great opportunity to celebrate our authentic selves and develop deeper connections.
Warmly,
The APS Board
About The Yoga Junction: The Yoga Junction is a studio built on diversity and inclusivity. A safe space for anyone & everyBODY to show up exactly as they are in each moment (even those dark and sticky ones). We say Shame dies when stories are told in safe places. The Yoga Junction is all about commUNITY and connection. Showing up for yourself is mandatory BUT participation is ALWAYS optional. If what you need is to lay on your mat for an hour long Savasana then that is welcome. We promote moving your body in a way that feels good for you, which also includes NOT moving at all. Yoga is about how it feels, not about how it looks. If you can breathe… you are doing yoga!
For more information visit https://www.theyogajunction.com/
*****
DETAILS
Date: Saturday, December 3
Time: 12:30-1:30 PM
Location: 520 First Ave NE, Airdrie
Attendees: 18+ only, 16 spots available
ADDITIONAL INFORMATION
Yoga mat is required
The Yoga Junction will have yoga mats available for sale if you do not own one
Your ticket (printed or mobile) must be presented for entry into the event
In order to participate in this class, you must fill out the waiver found on The Yoga Junction's app
Apple app: https://apps.apple.com/jm/app/the-yoga-junction/id1618916909
Android app: https://apkcombo.com/the-yoga-junction/the.yoga.junction/
ACCESSIBILITY
Wheelchair accessible into the building, but there is stairs to get up to the studio and no elevator services
Gender neutral washroom and change room (i.e. one shared space)
Please reach out to taylors@airdriepride.ca with any other concerns you'd like to discuss