About this Event
The Conference
The Women Who Inspire Conference is primarily about women supporting women supporting women. We are raising money for The Comox Valley Tranisition Society while creating connection, valuing the female resilience, and providing an incredible networking opportunity with some of the strongest inspiring women in the Comox Valley area. The conference highlights the wisdom found in overriding old narratives and providing proof that we do, indeed, rise above. This event is for women who are interested in self-improvement, personal health, creativity, finding their voice, and understanding how to harness the power within to change themselves and their life for the better. Inspiring speakers will take you on a journey of healing, fun, finding strength, and learning resiliency.
Discover new resources and engage in a vibrant community of incredible female minds. This is an opportunity to gather and share stories, connect with exceptional women, and grow your tribe. All while contributing to your fellow woman through contributions to local women in need through the amazing works of The Comox Valley Women's Transition Society. 10am to 5pm, doors open 9am - Tickets to the conference are $60. Everyone Welcome.
The Concert
The evening concert will feature Voices Three (Helen Austin, Judy Wing and Sue Pyper) The Jenn Forsland Band and Brodie Dawson and Friends. Tickets for the concert are available separately from the conference. 7:30pm, doors open 7pm Tickets for the concert are $20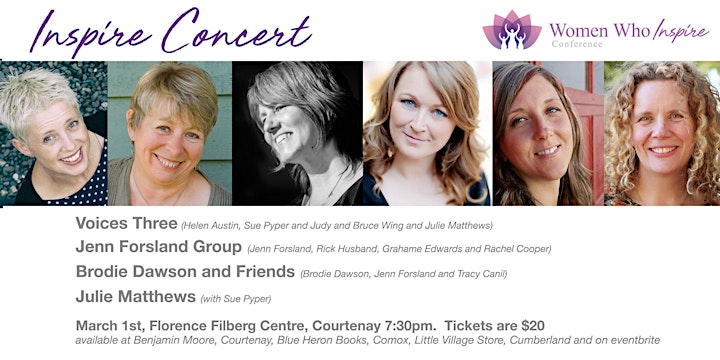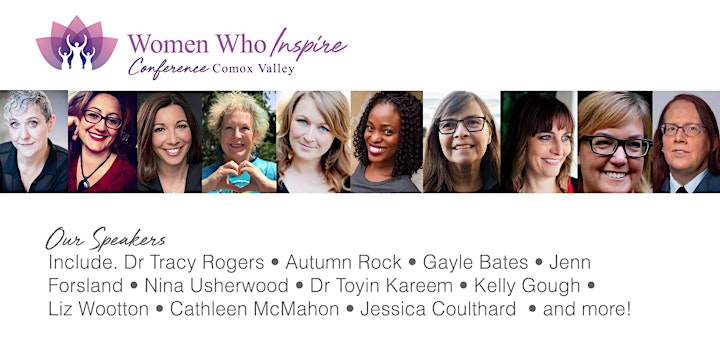 Speakers
Dr Tracy Rogers
I am an Obstetrician Gynecologist with over 20 years experience in caring for Women. I am originally from Newfoundland and bring a decided East Coast flare to my practice and to my talks. I am extremely passionate about women's health and education.
I have been publicly speaking for many years using humour and story telling to communicate important messages for women. I am currently completing a Masters in Health Care Leadership at Royal Roads University and am also working towards certification with Brene Brown and her Daring Way curriculum which focuses on worthiness, belonging and shame resilience. I am hoping to inspire women to view issues in women health from a new perspective and empower women with knowledge and support.
Jenn Forsland
For 13 years, Jenn Forsland has played an integral role in the Comox Valley music scene. A distinguished graduate of the music education program at UVic, Jenn trained classically as a vocalist, pianist, and conductor. For over 25 years, Jenn has worked with singers of all ages, as a teacher, conductor, adjudicator, and clinician. In addition to her role as musical director of the Island Voices Chamber Choir, she also directs the Celebration Singers and the Grace Notes Womens' Ensemble and maintains an active performing schedule. In 2019 she received the Amy Ferguson Award from the BC Choral Federation for technical excellence in her field. Jenn was instrumental in the development and launch of the innovative and award winning, Fine Arts eCademy in SD71. In both Alberta and BC, her students and choirs have received gracious recognition locally and provincially for their fine musicianship and technical excellence. She regularly facilitates teacher workshops and has directed various honour and demonstration choirs. With enthusiasm and passion, she inspires singers of all ages to work towards choral and vocal excellence, musical sensitivity and a joyful expression of self through the shared musical experience.
Nina Usherwood
Nina was born in France while her Dad was posted there to a military base. Returning to Canada before first birthday. First wore a dress at age 4. Has lived from Holberg on the northern tip of Vancouver Island to Barrington on the south most tip of Nova Scotia, as well as points in between. Joined the military in 1979. Came out to the military in 2009. Spoke on human rights, diversity and inclusiveness to numerous organizations. Spoke at the 2018 Toronto Human Rights Film Festival (JAYU Hot Docs). Volunteered with the Walking With Our Sisters Installations. A Founder of Comox Valley Pride.
Gayle Bates
How I've always hoped to be a good example, but have occasionally been a terrible warning
Dr Toyin Kareem
Dr Toyin Kareem is a Communications specialist with years of experience in Relationship management in the telecommunications industry. She has a keen interest in diversity, inclusivity and development programs which informed her foray into a PhD on Social Justice Advocacy on Social Media. She has collaborated with advocacy organizations who work with marginalized groups to support diversity and social inclusion. She moved to Canada in 2019 and currently works with the Immigrant Welcome Centre, a not-for-profit that provides professional settlement services and builds welcoming and inclusive communities. Her expertise in Communication, Relationship and Project Management have proved rewarding.
Liz Wootton
"My mission is to make the world a better place for people who run businesses. That doesn't happen by changing the world, it happens by supporting and guiding change for those people. As a coach, it is my privilege to facilitate that process, and to witness my clients become more effective leaders of self and others, and to develop healthy, sustainable habits for work and life, working WITH your human nature, not against it." 
Liz's company, Human Nature Development helps with values-based leadership, personal effectiveness, employee recruitment, engagement and performance. She draws from experience in business leadership and management, combined with unique perspectives from martial arts, sports, music and theatre, Alexander Technique, Myers Briggs and life coaching.
Cathleen McMahon
For ten years, Cathleen struggled with her life as the wife of a rock and roll musician. Raising her children in a world that promoted sex and drugs disagreed with her morality.
Through the next decade, she followed her heart every step of the way. Leading stories of Childhood Cancer, Veteran Awareness, and the need for supporting music that inspires our next generation. She learned to "Shine"
Kelly Gough
Born in Toronto, Ontario Canada in 1963 the 6th of 7 children, my parents said I drew on anything I could find, even the family Bible.
Joined the CF in 1983 as an Electronics Technician. After 9 years I obtained my MSW and worked as a Military Social Work Officer. 13 years later, I was diagnosed with PTSD and Depression. Retired in the Comox Valley, 2005.
Jessica Coulthard
Jessica is the founder of Just a Girl Like Me Coaching, Author, Strategic Interventionist, and NLP Practitioner who believes that the best way to learn is from each other. When we build a strong community of women, we are unstoppable! I spent most of my life afraid of my own voice, now I am here to show women that we all need to set forward and share our stories to inspire and empower other women to do the same.
Autumn Rock
Autumn Rock is a successful business owner, Success Strategist and Life & Recovery Coach. As the founder of Rock Life & Success Strategies. Autumn's mission is to empower others. Against the odds, she has created a success story for herself and many others. Over twenty years ago Autumn overcame her own addiction and subsequently battled PTSD from a traumatic past. Since then, she has been fiercely brave in rising above her challenges and mentoring women in business, guiding others on the path to addictions recovery and wellness, and supporting families. As a community leader, writer, public speaker, and mentor, she is devoted to helping others achieve their dreams and reach their highest potential.
Chai Sullivan
Chai is an emerging neo-soul artist raised in the village of Cumberland, B.C. looking to open minds and to entertain. Following the release of her debut single "Tangerine" Chai will be releasing a more upbeat, hard-hitting single and music video titled "Bill 314." The song is inspired by the heated political conversation surrounding gender equality and named after the high profile bill AKA the"Human Life Protection Act" Bill 314 enacted in May of 2019 in Alabama. Chai wanted to make a short film highlighting the feeling that many women share of lacking a sense of pride, safety and ownership over their bodies.
She plans to carry on the #MeToo movement by creating a visual album that exposes the "behind the scenes" moments of being a woman that are often too painful to share. " I want to see people of all genders succeed in their fields, but there are truths to be told and corrections to be made in our system that need to happen before the playing field can be even, or safe for us women. If I people can sing along to truthful, uplifting lyrics, maybe it will play through their heads and awaken that sense of Wait. Something's really not right here