Event Information
Refund policy
Contact the organizer to request a refund.
Eventbrite's fee is nonrefundable.
A 5-month meditation training program for professional caregivers with Kristina Bare, Yong Oh and Jill Davey.
About this event
Description
We invite you to participate in a 5-month meditation training for professional caregivers. Through the program you will be introduced to the four brahma viharas which are meditative trainings of the heart-mind that cultivate our capacity to be in relationship with self, others and the world in a sustainable and balanced way. During these unprecedented times self-care is needed more than ever. These practices are rooted in Buddhist psychology.
In addition to these classical meditative training, you will also be introduced to Somatic Experiencing techniques and education about the nervous system as a support for self-regulation. The biggest focus will be on the development of a personal meditation practice and how that relates to your work as a caregiver.
Nous vous invitons à participer à une formation de méditation d'une durée cinq mois destinée aux aidants professionnels. Ce programme vous permettra de découvrir les quatre Brahma Viharas : il s'agit d'entraînements méditatifs du cœur et de l'esprit qui cultivent notre capacité à être en relation avec nous-mêmes, les autres et le monde d'une manière durable et équilibrée. En ces temps sans précédent que nous traversons, veiller sur soi-même est plus que jamais nécessaire. Ces pratiques sont ancrées dans la psychologie bouddhiste.
En plus de ces formations méditatives classiques, vous serez également initiés aux techniques de Somatic Experiencing et à de l'information sur le système nerveux comme soutien à l'autorégulation. L'accent sera principalement mis sur le développement d'une pratique personnelle de méditation et sur la façon dont celle-ci est liée à votre travail de soignant.
Who is this Program for
This training is suitable for professionals in a wide variety of caregiving positions and is offered in English. These may include but are not exclusive to teaching, medical, therapeutic, personal support workers, and emergency responders. It may also be suitable for those who are volunteer caregivers. Please contact the teachers to discuss this possibility. This program is suitable for those with an established practice and those who are new to mediation. A sincere interest in learning and developing a practice is needed to benefit from this program.
It is important to us to be a welcoming, safe, and inclusive program, accepting and supportive of diversity in age, race, physical and mental abilities, as well as sexual orientation and gender identity. We will do our best to accommodate diversity needs.
If you have been impacted by recent loss, trauma or upheaval in your life or have concerns if the course is appropriate for you as this time please contact Kristina Baré at kbaredev@live.com to further explore this.
If you are a Registered Professional you may be able to use this program towards Continuing Education Hours. A letter of completion will be issued at the end of the class. Please contact your college or professional association to inquire about this.
Learning Objectives
Developing a daily meditation practice as a prevention for caregiver burnout
Deepening your understanding of your nervous system and developing tools for staying resourced and grounded
Developing the inner resources of friendliness, compassion, joy, and balance as a support for your work as a caregiver
Connecting with other professional caregivers as a support in times of isolation
Expectations
Intention to attend at least 90% of the program.
All must attend first session.
Establish and maintain a daily meditation practice. Instructions will be given.
Commitment to keep a meditation journal about your practice (brief entry's are fine).
Small group participation. [If not able to attend small group, please book a private meeting with one of the teachers. Individual meetings are offered on a Dana (donation) basis to support the teacher. ]
Check-ins with your practice partner
Format
All teachings and gatherings take place via zoom.
Large Group: After the initial two day course opening, the large group meets once per month for a day of training.
Small Groups: In addition, the group is divided into 3 smaller groups that will meet with a teacher for an additional 1.5 hours once per month. The small groups are a time to share, reflect on, and discuss your practice.
Practice Partner: You will also have a buddy through the program that you will connect with to check in about your practice.
Optional Individual Support: There will also be the option to meet one on one with a teacher as additional support for your practice. This is offered on a donation basis.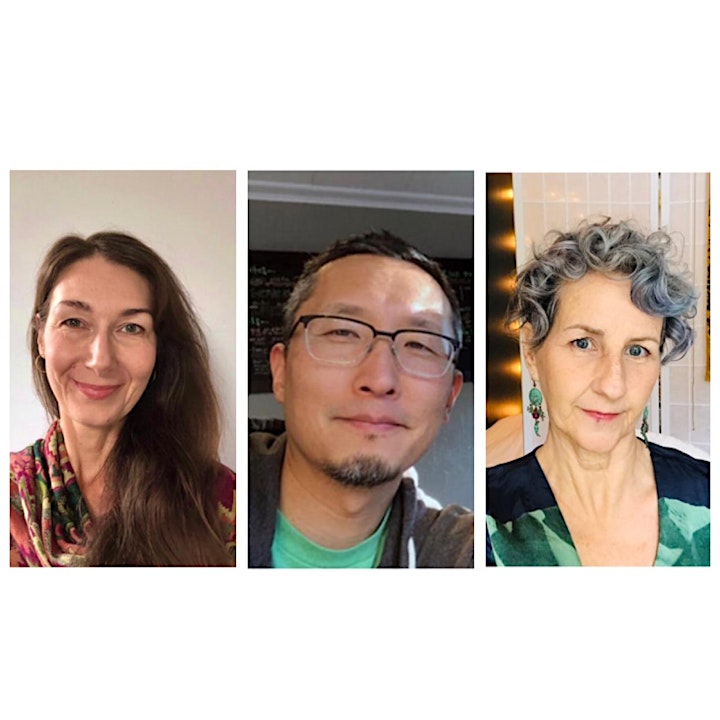 The Teachers
Kristina Baré is a trauma therapist and meditation teacher. She has trained as a Clinical psychologist in Denmark, a couple and family therapist in Canada, a Dialectical Behaviour therapist and Somatic Experiencing Practitioner (R). Kristina has practiced vipassana (insight meditation) since 2009. In 2019/2020 she completed 6 months of meditation retreat practice in the Pa Auk Sayadaw tradition with a focus on mindfulness of breathing and loving kindness meditation. She is currently being mentored by her teacher Marcia Rose, and other dharma teachers, to teach meditation retreats in the vipassana tradition. As a professional caregiver herself, Kristina is drawn to offer mindfulness and loving kindness practices to caregivers as a tool for greater awareness and self-regulation.
Yong Oh is currently a Dharma Council teacher at the Durango Dharma Center, teaches for the Chattanooga Insight Meditation group, and has taught retreats at IMS and Spirit Rock and other centers. He is a graduate of Spirit Rock's Community Dharma Leaders program, the Sacred Mountain Sangha 2-year Dharmapala training with his primary teachers Kittisaro and Thanissara, and is completing the 2017-2021 Insight Meditation Society Retreat Teacher Training program. Yong is currently on the board for the Durango Dharma Center and serves on the Leadership Council for Sacred Mountain Sangha. Yong recently co-taught the first retreat offered at the Insight Meditation Society specifically for those who caregive. Yong is also an acupuncturist, loves the outdoors, bringing the practice of meditation into nature and supporting communities of color as well as those who serve in caregiving roles.
Jill Davey (she/they) is the founder of RiverSound Retreat and Insight Meditation Fergus. Since their first meditation retreat in 2008, Jill has been devoted to the study and practice of Vipassana (Insight Meditation) and sharing this understanding with others. Having been mentored and invited to teach by Molly Swan and Norman Feldman, Jill is a teacher with True North Insight. Jill is particularly interested in connecting the relevance of these ancient teachings of awareness, wisdom and kindness to daily life experience. Jill brings years of previous experience as a community worker to their teaching and is actively committed to the ongoing dismantling of internalized and systemic privilege.
Dates
Daylongs
Pacific Standard Time 9:30-12:00 & 1:00-3:30
Eastern Standard Time 12:30-3:00 & 4:00-6:30
Saturday September 18 and Sunday September 19, 2021 - Introduction/Loving-kindness
Sunday October 17, 2021 - Compassion
Sunday November 21, 2021- Sympathetic Joy
Sunday December 19, 2021 - Equanimity
Sunday January 16, 2022 - Closing
Small Groups Dates:
Pacific Standard Time 10:00 - 11:30 a.m.
Eastern Standard Time 1:00 - 2:30 p.m.
Saturday October 9, 2021
Saturday November 13, 2021
Saturday December 11, 2021
Cost
The cost is $950. This includes at $250 non-refundable registration fee. The $700 balance is due August 18, 2021. This payment can be e-transferred to info@truenorthinsight.org. Please ensure to add a note that it is for the Professional Caregivers Course.
Additional reduction may be available to those with lower incomes. Please contact our manager Elisabeth to further inquire about this: elisaschramm@gmail.com
Registration
After you have registered you will receive a brief survey designed to give the teachers some background information.
Date and time
Location
Refund policy
Contact the organizer to request a refund.
Eventbrite's fee is nonrefundable.
Organizer of Compassion and Wisdom: Meditative Training for Professional Caregivers