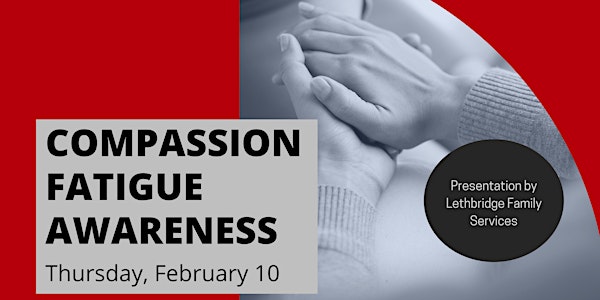 Compassion Fatigue Awareness Presentation
MFRC and Lethbridge Family Services
Event Information
Location
Virtual
Virtual
Calgary, AB
Canada
Lethbridge Family Services is once again partnering with us to present a series of workshops on various mental health topics each month.
About this event
When we are invested in our work and care about people we serve or when our role in family life is to hold it together for everyone else, there is a cost to the constant expending of energy. That cost is called Compassion Fatigue, also known as the "cost of caring".
Join John, Corrine and Lorena as we discuss Compassion Fatigue, what it is and how to recognize and prevent it.
We will be using Microsoft Teams and a link will be sent to you the day before each event.
All events in this series are open to all in our military family community including CAF members, family members, Veterans, CICs, DND staff, MFRC Volunteers and MFRC staff.
If you have any questions please contact Candace in our Lethbridge office at 403-360-1690 or at candace.driscoll@calgarymfrc.ca.
Date and time
Location
Virtual
Virtual
Calgary, AB
Canada