Communication is an art form. This session is an opportunity to practice your unique artistic expression .
About this event
If you choose to make a donation, please consider making it here in order to only pay taxes that apply to you: https://www.theonepersonrevolution.org/product-category/compassionate-communication/
ABOUT
How you think matters. What you say to yourself and others matters. How you say it matters. How you listen matters.
Practice tangible exercises that help you to focus on and discern what you might be feeling, why you might be feeling it, and what you might want to do about it in particular situations.
Please note:
This session will not necessarily cover all of the basics of Nonviolent Communication; we simply do not have enough time in 1.5 hours!
This is a live session only; there will be no replay available so please ensure that you are able to attend during the time that it is offered.
ACCESSIBILITY
A video-capable device is recommended but not required. Attendees may keep their videos off for privacy or comfort, and are free to leave at any time.
This session may or may not be recorded. If it is, only the image of active speakers will be captured; the recording will not be distributed to participants.
This session will be in English. Zoom's auto-captioning feature will be enabled.
It may be helpful to have something to write on and something to write with during this session.
This is a trauma-informed, invitational space. You may take part in/skip any exercises as you wish.
Please email at Connect@TheOnePersonRevolution.org for other accessibility needs and/or questions.
For more information, visit: https://www.theonepersonrevolution.org/product-category/compassionate-communication/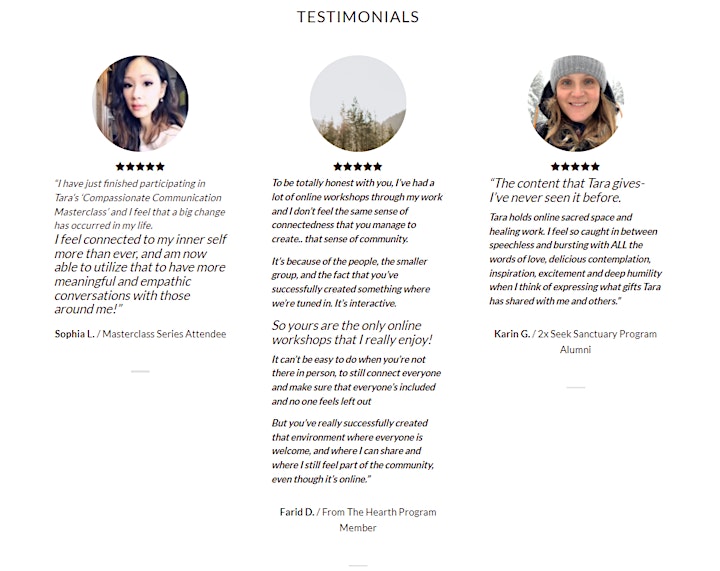 PARTICIPATE IN THE GIFT ECONOMY
The gift economy is an invitation to practice questioning the market economy, as well as an effort to support a needs-based flow of resources.
You can read more about it here: https://www.theonepersonrevolution.org/gift-economy/.
As an estimate, it will take approximately $15 CAD per person to make this offering viable. You are invited to contribute an amount that feels generous and financially sustainable for you. If you are not able to contribute any amount, please choose zero. If you are able to contribute more, please consider covering the cost for one or more participants who cannot contribute.
To contribute on an ongoing basis, see the Network of Support: https://www.theonepersonrevolution.org/product/network-of-support/