About this Event
Background:
Do compostable and biodegradable mean the same? What does "certified compostable" mean? Do compostable plastics go in the blue box, the green bin, or neither?
You have questions, we have answers!
BC is shifting towards reducing or eliminating single-use plastic items, including but not limited to: take-away containers, straws, cutlery and to-go cups. The result is an increase in the production and distribution of biodegradable or compostable plastic products as alternatives.
With the influx of these materials, questions arise about the opportunities and challenges related to manufacturing, purchasing, using, recycling and composting these single-use biomass derived products.
Learn more at an educational and interactive workshop hosted by RCBC, with speakers providing the science behind these materials, current policy and regulation review, as well as the manufacturing and processing landscape. Presentations will be followed by a facilitated breakout session allowing stakeholders to dig deeper into the issues. The afternoon workshop will be facilitated by the Science and Policy Integration Network (SPIN).
Whether you are already familiar with compostable packaging, are learning about integrating compostable packaging in your operations, or somewhere in between, all attendees will benefit from the knowledge shared by the speakers.
Interested stakeholders include, but are not limited to,
Compost, solid waste and recycling stakeholders
Local, regional and provincial government representatives
Compost processors and haulers
Bioplastic producers, brand owners, manufacturers, distributors and/or retailers
Users – food services industry, film industry, farmers, schools/colleges, hospitals, food courts etc. 
Registration fee is $29. Lunch and refreshment breaks are included.
Speakers
Introduction and Background:
Dr. Love-Ese Chile, Grey to Green Solutions
Policy & Regulation:
Dieter Geesing, Provincial Soil Specialist with the BC Ministry of Agriculture
Tamara Burns, Recycle BC
Emily McGill, Consultant
Manufacturing and Processing:
Sadaf Shafiei Sabet, good natured Products
Susanna Carson, National Zero Waste Council
Mateo Ocejo, Net Zero Waste
Workshop facilitated by the Science & Policy Integration Network (SPIN)
For speaker bios and workshop facilitation details, please visit https://www.rcbc.ca/events/compostableworkshop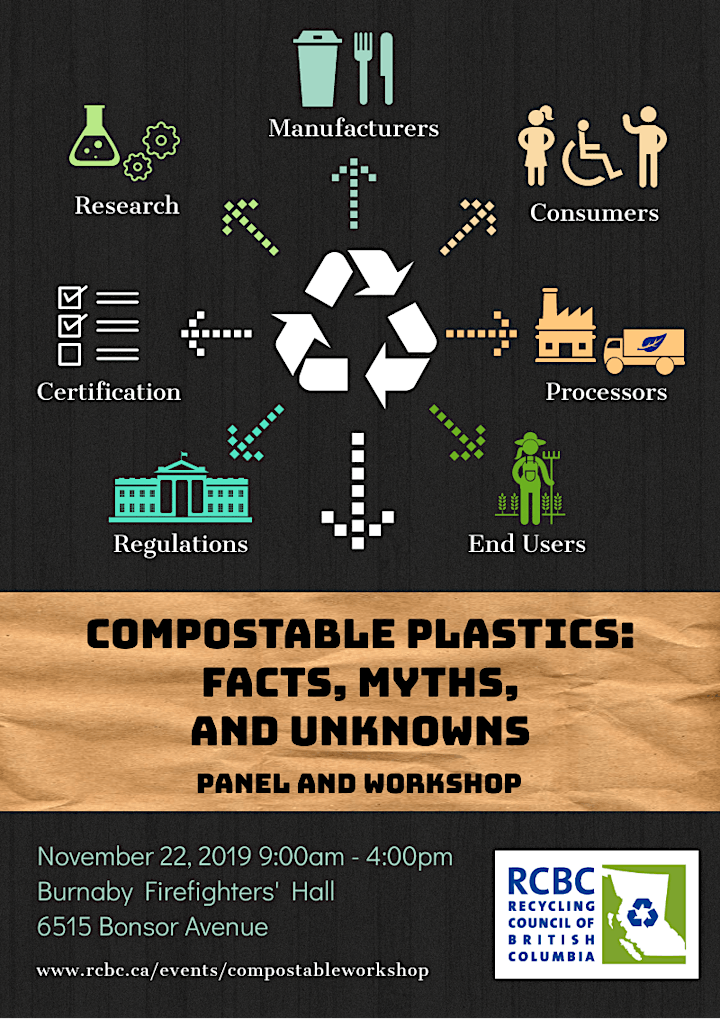 Schedule:
Doors Open: 8:30am
Presentations: 9am - 12pm
Workshop: 1pm - 3:30pm
Networking 3:30pm - 4pm