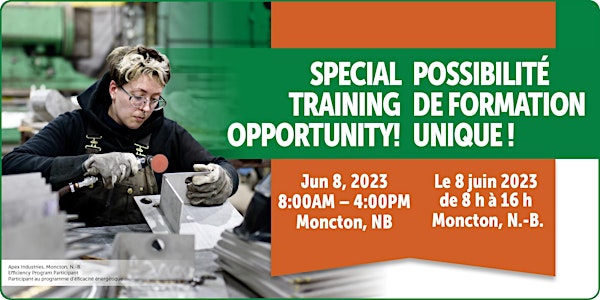 Compressed Air Challenge Fundamentals
In just one day, you'll learn how to achieve 15-25% of energy cost savings through more effective production and use of compressed air.
Date and time
Thu, Jun 8, 2023 8:00 AM - 4:00 PM ADT
Location
Holiday Inn Express & Suites Moncton 777 rue Mapleton Road Moncton, NB E1G 2K5 Canada
Refund Policy
Contact the organizer to request a refund.
Eventbrite's fee is nonrefundable.
About this event
In collaboration with the Compressed Air Challenge, NB Power is offering the Compressed Air Challenge Fundamentals course delivered by instructor Ron Marshall. The aim of this training is to help raise awareness about the challenges and solutions related to compressed air. This one-day introductory course is designed to teach facility engineers, operators, and maintenance staff how to achieve 15-25% cost savings through more effective production and use of compressed air.
Participants will learn how to:
Calculate the energy cost of compressed air in their facility
Improve compressed air system efficiency and reliability
Identify inappropriate uses of compressed air
Establish a baseline by which they can measure improvements in compressed air performance and efficiency
Match system supply to actual production requirements for pressure and flow
Find and fix leaks
Establish a leak prevention program
Better control compressed air to improve productivity and profitability
Registration is available on a first-come, first-served basis. Deadline to register is May 26, 2023. The fee is $100 + HST. There will be no registration or acceptance of payment at the training event. Space is limited to a maximum of 30 registered attendees. Breakfast, snacks/coffee, and lunch will be provided during the course. Please contact us if you have specific meal requirements.
Please note this course is currently offered in English only. However, a French version is being developed. Please do not hesitate to contact us at IEES-SEEI@nbpower.com so that we can reach out to you once the French version of the course becomes available.
--------------------------------------------------------------------------------------------------------------------------
Énergie NB, en collaboration avec le groupe Compressed Air Challenge, offre un cours sur les principes fondamentaux de l'air comprimé donné par l'instructeur Ron Marshall. L'objectif de ce cours est de sensibiliser les participants aux défis et aux solutions liés à l'air comprimé. Il s'agit d'un cours d'introduction d'une journée qui vise à apprendre aux ingénieurs, aux opérateurs et au personnel d'entretien des installations comment réaliser des économies de 15 à 25 % grâce à une production et à une utilisation plus efficaces de l'air comprimé.
Les participants apprendront :
à calculer le coût énergétique de l'air comprimé dans leur installation ;
à améliorer l'efficacité et la fiabilité du système d'air comprimé ;
à reconnaître les mauvaises utilisations de l'air comprimé ;
à établir un point de référence qui permettra de mesurer les gains de rendement et d'efficacité des systèmes d'air comprimé ;
à adapter l'alimentation du système aux exigences réelles de la production en matière de pression et de débit ;
à trouver et réparer les fuites ;
à mettre en place un programme de prévention des fuites ;
à mieux gérer l'air comprimé pour améliorer la productivité et la rentabilité.
Les places sont limitées et sont attribuées selon le principe du premier arrivé premier servi. La date limite d'inscription est le 26 mai 2023. Les frais s'élèvent à 100 $ + TVH. Il ne sera pas possible de s'inscrire ou de faire le paiement au moment du cours. La capacité est limitée à 30 participants. Un petit-déjeuner, des collations et du café, ainsi qu'un repas de midi seront servis pendant les cours. Si vous avez des restrictions ou préférences alimentaires, veuillez communiquer avec nous.
Veuillez noter que ce cours est actuellement offert en anglais. Toutefois, une version française est en cours de développement. N'hésitez pas à nous contacter à IEES-SEEI@nbpower.com afin que nous puissions vous contacter lorsque la version française du cours sera disponible.