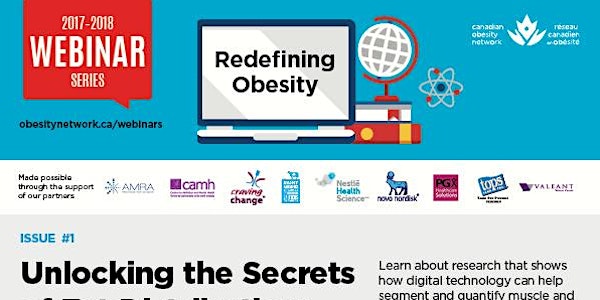 CON Webinar - Unlocking the Secrets of Fat Distribution
When and where
Location
Canadian Obesity Network This is an online event 1-116 Li Ka Shing Centre for Health Research Innovation 8602-112th Street Edmonton, Alberta T6G2E1 Canada
Description
This event is FREE but you MUST REGISTER.

Join us as we welcome two International experts to examine one of the hottest topics in obesity research today – how digital technology can help future obesity research.
Olof Dahlqvist Leinhard, PhD is the Chief Scientific Officer & Co-Founder at AMRA. He is also a Senior University Lecturer in Magnetic Resonance (MR) Physics at Linköping University (LiU), within the Department of Medicine and Health (IMH) / Division of Radiological Sciences (RAD). Renowned within the field of MR Physics, Olof has over 45 peer-reviewed journal and conference articles, as well as over 90 peer-reviewed conference abstracts to his name.
Ian Neeland, MD, FAHA is a general cardiologist with special expertise in obesity and cardiovascular disease, as well as noninvasive imaging at the UT Southwestern Medical Center in Dallas, US. He is active in both research and patient care. His research focuses on cardiovascular disease, diabetes, and obesity.
Questions about the topic? Tweet to us using #obesitytalk OR send us a message on Facebook OR ask your question in the evaluation survey at the end of the webinar.
All webinars will be recorded and streamed online on the Canadian Obesity Network website!
The Canadian Obesity Network Webinar series is made possible through unrestricted grants from our FOCUS partners. Speakers receive no compensation from CON-RCO.