Concert en soutien à nos Vétérans / Concert in support of our Veterans
About this Event
La Légion de Saint-Jérôme est fière de vous inviter à un concert bénéfice et de l'aider à poursuivre sa mission première qui est de perpétuer le Souvenir de ceux qui ont volontairement sacrifié leur vie pour notre liberté lors des conflits passés, et de venir en aide aux vétérans militaires, les policiers retraités de la Gendarmerie royale du Canada ainsi qu'à leurs familles. Avec les derniers conflits en Croatie, Afghanistan, Rwanda et dans d'autres missions, beaucoup de vétérans reviennent avec des troubles du syndrome post-traumatique (TSPT) et ils se présentent à nos portes pour demander de l'aide. Un de nos objectif présents est de mettre sur pied une clinique régionale pour venir en aide premièrement aux personnes en uniforme souffrant du TSPT, et plus tard, à la population locale. L'implication sociale de La Légion est aussi auprès des jeunes tels les corps de cadets locaux. Ainsi tous les fonds générés par ce spectacle bénéfice iront directement à poursuivre cette mission. Merci de votre support.
Pour toute question, veuillez communiquer avec Michel Bonenfant au 450-224-0232.
________________________________________________________
Le samedi 5 octobre 2019 / Saturday, October 5, 2019
Salle André-Prévost Hall
Portes / Doors: 19 h / 7 pm - Spectacle / Show: 20 h / 8 pm
Billets / Tickets:Pré-vente / Presale: $12 - Porte / Door: $15
ARTISTES INVITÉS / INVITED ARTISTS:
Alexander D'Alesio (Gagnant du concours de chant Superfantastico Italian et du concours ONETAKE) et Kevin Bazinet (Gagnant de La Voix 2015)
The Record Breakers (Ont fait la pemi`ère partie de Bon Jovi au Centre Bell en 2018 lors de la tournée 'This House is Not for Sale' tour; gagnants du concours Découverte New Country Brome 2019; gagnants du concours Relève Chez Maurice 2019)
________________________________________________________
The Saint-Jerome Legion is proud to invite you to a benefit concert and to help us pursue our mission of perpetuating the Remembrance of those who have voluntarily sacrificed their lives for our freedom in past conflicts, and to help support our retired Canadian Armed Forces Veterans, our retired members of the Royal Canadian Mounted Police and their families. With the latest conflicts in Croatia, Afghanistan, Rwanda and other missions, many veterans are returning with post-traumatic stress syndrome (PTSD) and they come to our door asking for help. One of our current goals is to set up a regional clinic to provide first aid to people in uniform suffering from PTSD, and later to the local population. The Legion's social involvement is also with young people such as local cadet corps. Thus all the funds generated by this benefit concert will go directly to pursue this mission. Thank you for your support.
For questions, please contact Michel Bonenfant at 450-224-0232.
The Record Breakers
https://recordbreakersband.com/
" Bon Jovi's effort to give a platform to local support acts is pure class, and the Record Breakers made the most of their contest win with a buoyant four-song showcase. Their confident melodic smarts weren't out of place in the dauntingly large venue, and the twangy undertones and engaging harmonies were solid hooks on which to hang a promising career."
— Jordan Zivitz, Montreal Gazette, Published on: May 18, 2018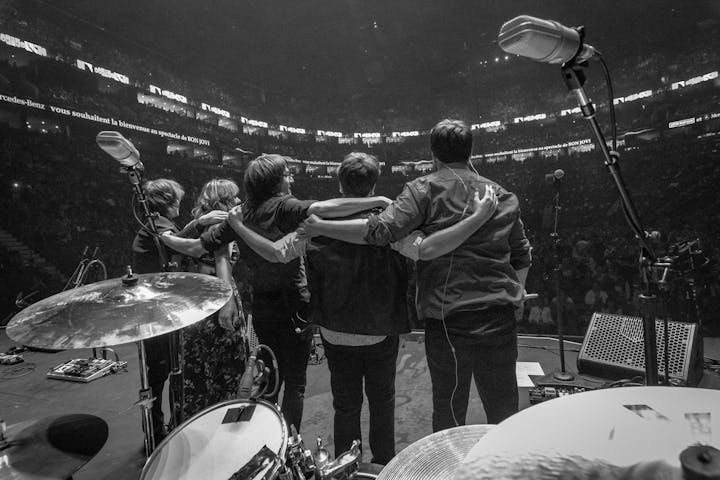 Alexander D'Alesio
https://www.alexanderdalesio.com/
Born in 2005, Alexander is determined, curious & passionate about music. He has been singing since the age of 4 and spends much time refining his skills. In 2015, Alexander was the recipient of the Royal Conservatory of Music gold medal in the vocal category. In 2016, Alexander won the Superfantastico Italian singing contest. In August 2018, Alexander won the ONETAKE singing contest. Alexander loves the way in which music brings everyone together & makes people happy. He donates much of his time singing for various events & fundraisers. He loves to share his passion for singing and seizes every opportunity to take the stage.
Kevin Bazinet
https://www.bazinetstudio.net/
Je souhaite grandement que les gens sachent que je ne suis pas qu'un chanteur. Je suis un être humain comme tout le monde, qui veut partager sa musique avec le plus de gens possible et de toutes les façons possibles. J'ai donc l'intention de poursuivre ma carrière, oui, mais seulement de façon différente. Donc si un jour vous entendez une nouvelle chanson de moi à la radio, sachez que je suis encore fière d'être un professeur de musique.