Sales Have Ended
Ticket sales have ended
Au plaisir de vous compter parmi nous !
Sales Have Ended
Ticket sales have ended
Au plaisir de vous compter parmi nous !
Description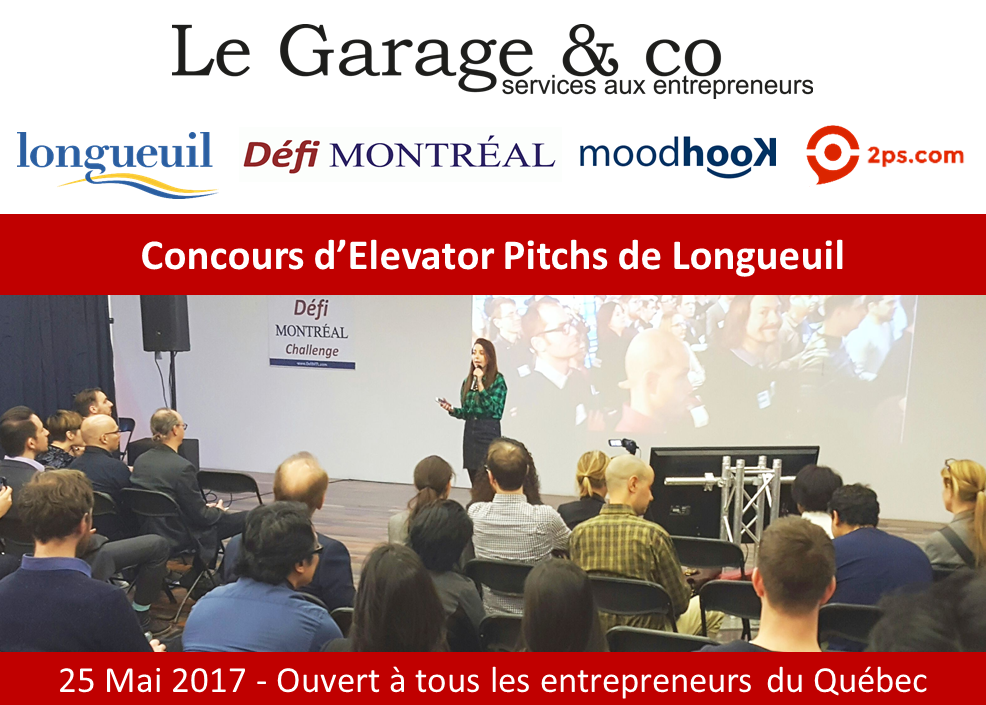 > Vous avez une minute pour convaincre !
Ouvert à tous les entrepreneurs du Québec avec un projet à fort potentiel
Le 25 mai prochain, Le Garage et co et Défi Montréal invitent les entrepreneurs à un atelier suivi d'un Grand Concours sur l'art ultime de faire un Elevator Pitches pour convaincre des investisseurs, partenaires et clients potentiels de votre projet d'entreprise.
Profitez d'une formation et des services de l'équipe de coaches d'expérience pour démontrer en une minute la force de votre idée.
C'est une occasion en or de faire valoir votre projet d'entreprise et de le présenter à d'autres entrepreneurs ainsi qu'à des entrepreneurs gradués et les professionnels qui seront là pour vous donner leurs conseils et partager expériences en matière de présentation et de persuasion.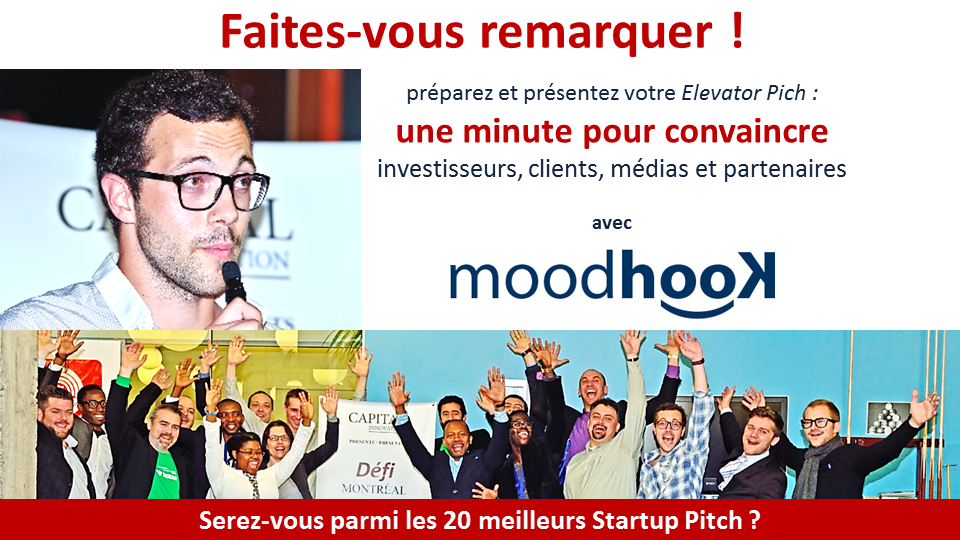 L'atelier sera suivi d'un concours devant public où vous présenterez votre Elevator Pitch, le Grand "Startup Pitch Challenge". Les finalistes seront retenus pour une grande finale du concours lors de l'événement M-Style le 1er juin pour présenter devant le grand public.
M-Style.ca est un événement organisé par les entrepreneurs gradués de Défi Montréal pour faire connaître leurs créations au public d'innovateurs avertis.
Inscription libre pour les entrepreneurs : choisir un billet Concours Elevator Pitch - NOTEZ que vous recevrez un courriel de confirmation pour valider votre participation à titre d'entrepreneur - Les places sont limitées et accordées en priorité aux entrepreneurs qualifiés.
> Les trois meilleurs pitchs seront primés sur les réseaux sociaux suite au vote du public.
> Le gagnant du Startup Pitch Challenge de Longueuil profitera d'une bourse de 500$ pour la prochaine cohorte de Défi Montréal et de 5 heures de conseil gratuites par les professionnels de 2PS.com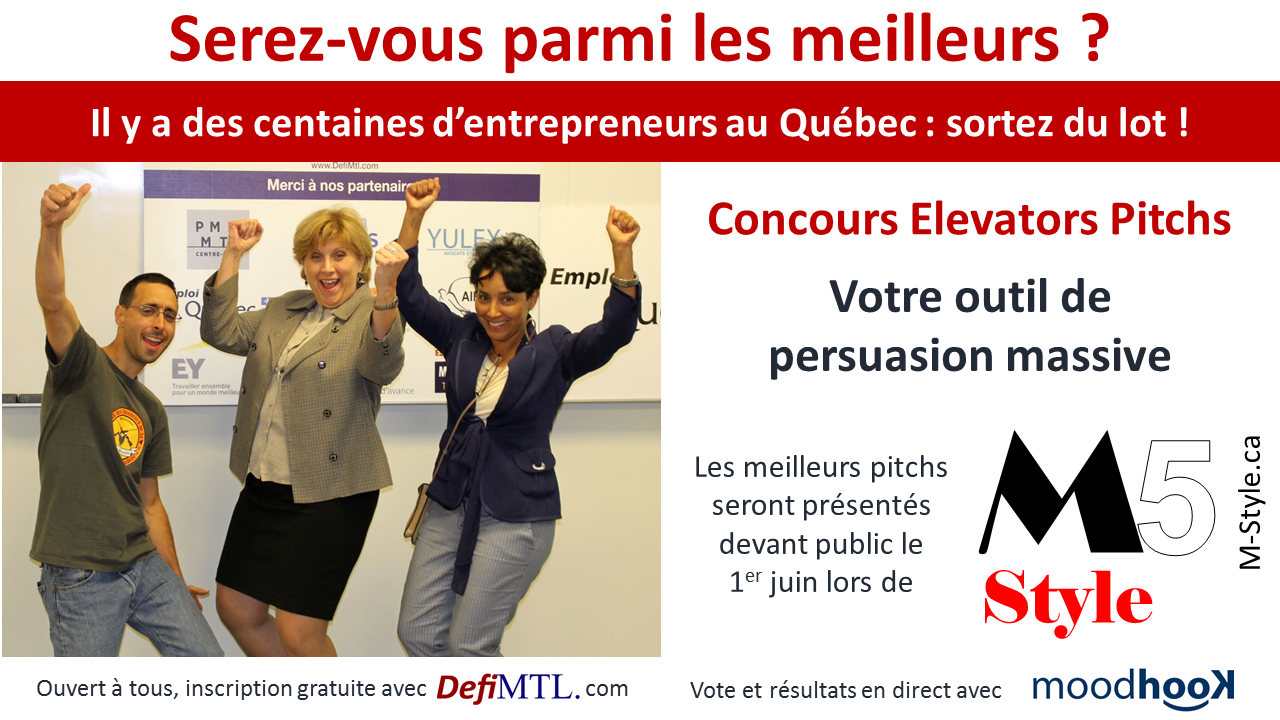 Un atelier de préparation sera offert aux entrepreneurs participants à 15h00, le concours d'Elevator Pitchs ouvert au public aura lieu à 17h00
> VIDÉO 20 ELEVATORS PITCHS DÉFI MONTRÉAL avec Anges Québec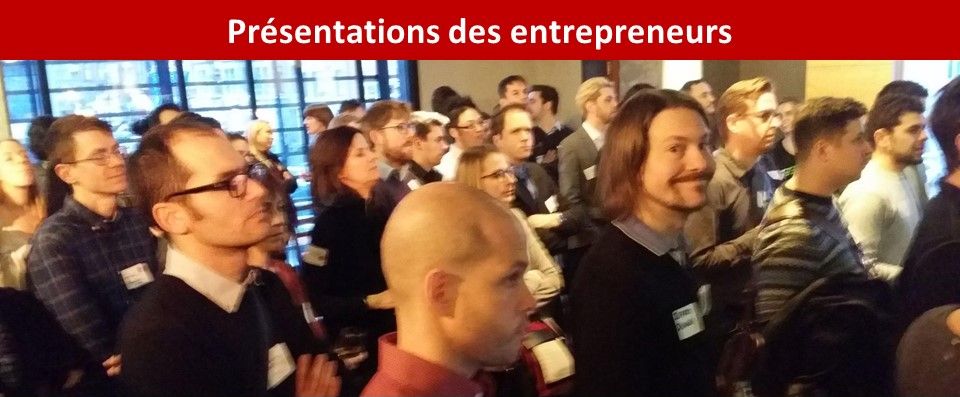 PROGRAMME DE L'APRÈS-MIDI DU 25 MAI
15h00 - Ateliers Elevator pitchs et Financement de startups
17h00 - Concours Startup Elevator Pitchs - Ouvert au public !
18h30 - Soirée Réseautage avec les entrepreneurs et partenaires
RENCONTREZ LES PROCHAINS ENTREPRENEURS À SUCCÈS

Organisé par Le Garage & co et Défi Montréal - DefiMTL.com