About this Event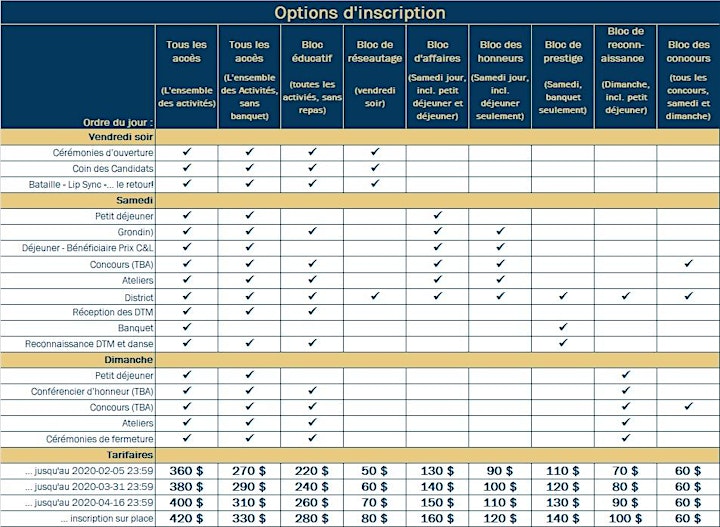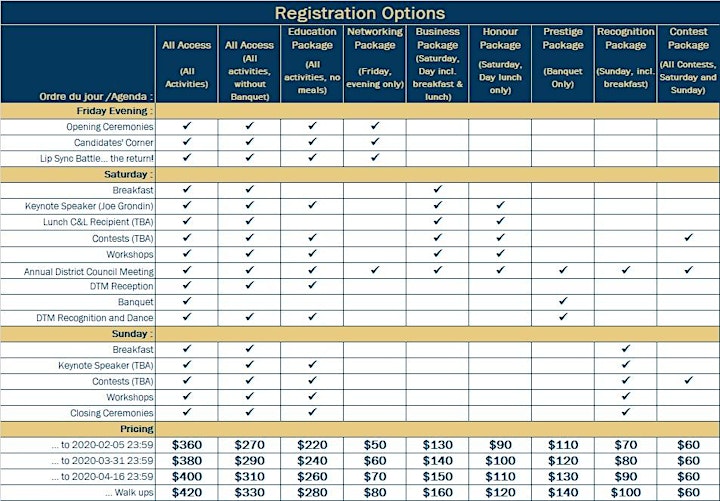 Marquez vos calendriers ... du 17 au 19 avril 2020, la Conférence du District 61 est l'endroit a être - Inscrivez-vous dès aujourd'hui!
Mark your calendars... April 17-19, 2020 the District 61 Conference is the ONLY place to be – Register today!
Ordre du jour / Agenda :
Vendredi soir / Friday Evening :
Cérémonies d'ouverture / Opening Ceremonies
Coin des Candidats (Rencontrer etentendre lescandidats parle qui se présentent aux postes de direction de District) / Candidates Corner (meet and hear the candidates speak who are running for District Leadership Positions)
Bataille « Lip Sync »… le retour! / Lip Synch Battle… the return!
Samedi / Saturday :
Conférencier d'honneur / Keynote Speaker
Bénéficiaire Prix C&L / C&L Recipient
Concours et Ateliers / Contests and Workshops
Réunion Annuelle du Conseil de District / Annual District Council Meeting
Réception des DTM / DTM Reception
Banquet Gala / Gala Banquet
Dimanche / Sunday :
Conférencier d'honneur / Keynote Speaker
Concours et Ateliers / Contests and Workshops
Cérémonies de fermeture (Annonces Prix et Gagnants des Concours) / Closing Ceremonies (Awards and Contest Winner announcements)
Points saillants / Highlights:
Conférencier d'honneur / Keynote Speaker :
Concours / Contests :
Concours international de discours / International Speech Contest
Concours de discours en français / French Speech Contest
Concours d'improvisation (anglais) / Table Topics (English)
Concours d'improvisation (français) / Table Topics (French)
Réunion annuelle du conseil de district / Annual District Council Meeting :
Élire les postes du conseil de district: directeur de division, directeur des relations publiques, directeur de la croissance des clubs, directeur de la qualité du programme, directeur de district / Elect the District Council Positions: Division Director, Public Relations Manager, Club Growth Director, Program Quality Director, District Director
Enregistrement / Registration :
Eventbrite pour le paiement par carte de crédit (d'ici!) / Eventbrite for payment by credit card (here!)
Contactez Conference2020@tmd61.com pour toute question ou pour organiser un paiement par virement électronique ou cheque / Contact Conference2020@tmd61.com for any questions or to arrange an e-transfer or cheque payment
Réservations d'hôtel / Hotel Reservations:
Fairmont la Reine Elizabeth, réservations de chambres, appelez au 1-866-540-4483 / Fairmont Queen Elizabeth, Room Reservations, call 1-866-540-4483
Mentionnez «Toastmasters» pour bénéficier du tarif spécial de 229 $ par nuit / Quote "Toastmasters" to receive the special rate of $229 per night
Voyage / Travel :
Via Rail, réservation de billets de train, appelez au 1-888-VIA-RAIL (1 888 842-7245) / Via Rail, Train ticket booking, call 1-888-VIA-RAIL (1 888 842-7245)
Donnez «14074» pour recevoir une remise de 10% / Quote "14074" to receive a 10% discount
Réservez un mardi pour bénéficier de tarifs déjà réduits, plus la remise de 10% !! / Book on a Tuesday to receive already reduced fares, plus the 10% discount!!
--------
Are you following District 61's Eventbrite page? Click "Follow" below to be "in the know" on all of District 61's workshops and events!
Suivez-vous la page Eventbrite du District 61? Cliquez sur «Suivre» ci-dessous pour être «au courant» de tous les ateliers et événements du district 61!