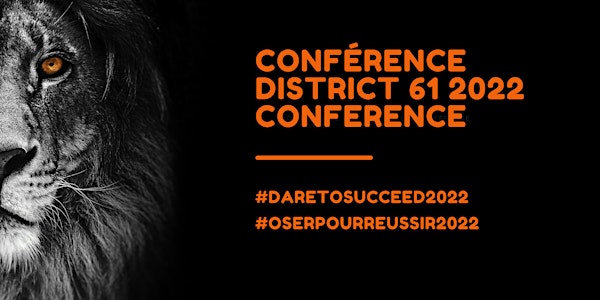 Conférence annuelle District 61 2022 Annual Conference
Conférence annuelle District 61 2022 Annual Conference
When and where
Location
Fairmont Tremblant 3045 Chemin de la Chapelle Mont-Tremblant, QC J8E 1E1 Canada
About this event
Mark your calendars... 2022-04-29 to 2022-05-01 the District 61 Conference is the ONLY place to be – Register today!
Marquez vos calendriers ... du 2022-04-29 à 2022-05-01, la Conférence du District 61 est l'endroit à être - Inscrivez-vous dès aujourd'hui!
A time to share, to be inspired, to celebrate life, the chance to finally be back together. A time to celebrate what you are proud of, to find the strength to spread your wings and achieve what is important for you.
Un temps pour partager, être inspiré, pour célébrer la vie, la chance de se retrouver enfin ensemble. Un temps pour célébrer ce dont vous êtes fier, pour trouver la force de déployer vos ailes et de réaliser ce qui est important pour vous
Activités pour la fin de semaine/ Activities for the Weekend:
Coin des candidats (Rencontrez et écoutez les candidats qui se présentent aux postes de direction du district) / Candidates Corner (meet and hear the candidates who are running for District Leadership Positions)
Conférencier d'honneur / Keynote Speaker
Récipiendaire Prix C&L / C&L Recipient
Concours (en ligne) et ateliers / Contests (on line) and Workshops
Réunion annuelle du Conseil de district* / Annual District Council Meeting*
Réception des DTM / DTM Reception
Banquet Gala / Gala Banquet
Pour connaître les options d'inscription, consultez le tableau ci-bas. / To know the registration options, see the table below.
Note: Les repas sont disponibles uniquement en mode présentiel ( les concours seront tenus en ligne ). / Meals are only available to in person attendance ( contests wild be held on line )
Faits saillants / Highlights:
Réunion du Conseil de district* / District Council Meeting* :
Élire les postes du conseil de district: directeur de division, directeur de la croissance des clubs, directeur de la qualité du programme, directeur de district / Elect the District Council Positions: Division Director, Club Growth Director, Program Quality Director, District Director
Si vous êtes membre du conseil de district (président de club, vice-président à l'éducation ou membre du comité exécutif du district), veillez à vous inscrire pour obtenir des pouvoirs. Assurez-vous de remplir le formulaire d'inscription pour le Conseil de district pour obtenir votre droit de vote. / District Council is a highlight activity during the Conference activities. If you are a member of District Council (a club president, vice president of education, or district executive committee member), be sure to register for credentials. Visit the District Council registration form to ensure you have secured your ability to vote.
*Voting Members of District Council are responsible for bringing their own device to participate and vote if they are at the Fairmont Tremblant Hotel. This device must be functional on the Zoom platform and use of the chat feature within Zoom.
*Les membres votants du conseil de district sont responsables d'apporter leur propre appareil pour participer et voter s'ils sont à l'hôtel Fairmont Tremblant. Cet appareil doit être fonctionnel sur la plateforme Zoom et l'utilisation de la fonction de chat sur Zoom.
Réservations d'hôtel / Hotel Reservations:
Fairmont Mont-Tremblant, réservations de chambres, appelez au 1-800-441-1414 / Fairmont Mont-Tremblant Room Reservations, call 1-800-441-1414
Mentionnez «Toastmasters» ou le code «TOAS0419» pour bénéficier du tarif spécial / Quote "Toastmasters" or block code "TOAS0419" to receive the special rate
Contactez-nous / Contact Us:
Conference2022@TMD61.com