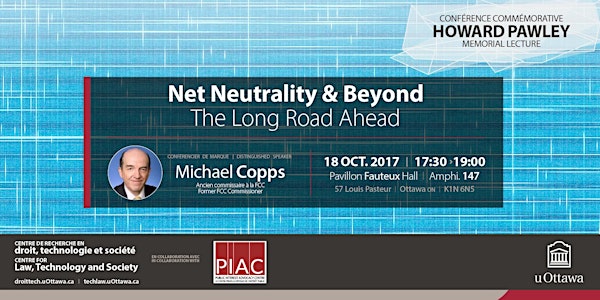 Conférence commémorative Howard Pawley Memorial Lecture
When and where
Location
uOttawa (Fauteux, 147) 57 Louis-Pasteur Ottawa, ON K1N 6N5 Canada
Description
Le Centre de recherche en droit, technologie et société de l'Université d'Ottawa et le Centre pour la défense de l'intérêt public (CDIP) sont très heureux de présenter une nouvelle conférence annuelle conjointe.
The Centre for Law, Technology and Society at the University of Ottawa and the Public Interest Advocacy Centre (PIAC) are delighted to introduce a new joint annual lecture.
Michael Copps:
Net Neutrality & Beyond: The Long Road Ahead


Cet événement est gratuit. Détails: https://droittech.uottawa.ca/node/541
This is a Free event. Details: https://techlaw.uottawa.ca/node/541
La conférence | The Lecture
Lost in the debate over net neutrality is the future of the Internet beyond that issue: questions of industry consolidation, commercialization, content proprietorship, Artificial Intelligence, etc., that will dictate not only what kind of communications ecosystem we end up with but what kind of world in the future. A true expert and great thinker will discuss net neutrality developments in the United States and even bigger questions beyond. Even though Canada now has strong net neutrality rules in Canada, US recent developments are of interest to Canada. The U.S. and Canada share the same English common law – including common carriage – and have similar statutory trajectories regarding telecommunications legislation. The U.S. and Canada are also confederations of member states or provinces that, in turn, have delegated telecommunications regulation to commissions. Given the similarities in governance between the U.S. and Canada, these nations often face similar policy issues, and sometimes individuals cross borders in debating them. As a result, telecommunications policy developments in one nation have and can be used to inform policy deliberations in the other.
À propos du conférencier | About the Distinguished Speaker
Michael Copps a œuvré comme commissaire à la Federal Communications Commission (FCC) américaine de 2001 à 2011. Son mandat a été marqué par une reconnaissance et une promotion constante de l'intérêt public. Il a joué un rôle important dans la lutte contre la consolidation dans le secteur des télécommunications et s'est démarqué par sa dissidence à propos de la fusion de Comcast-NBC Universal. Il est un ardent défenseur et constant promoteur de la neutralité du Net, de la programmation locale et de la diversité dans la propriété des médias. Bien qu'il ait pris sa retraite de la FCC, il poursuit son engagement à faire du paysage des communications un lieu inclusif et instructif en dirigeant le Media and Democracy Reform Initiative pour Common Cause. En outre, il siège également aux conseils d'administration de Free Press, ainsi que de Public Knowledge. Préalablement à son mandat à la FCC, il a été secrétaire adjoint au commerce pour le développement du commerce au sein du Département du commerce américain, sous l'administration Clinton. Michael Copps a travaillé pour le Sénateur Hollings (D-SC) de 1970 à 1985, et comme chef de cabinet pendant les douze dernières années.
Michael Copps served as a member of the US Federal Communications Commission from 2001 to 2011. His tenure was marked by a consistent embrace of the public interest. He has been a strong voice in opposition of consolidation in the telecommunications sector, and notably dissented in the Comcast-NBC Universal merger. He has been a consistent proponent for strong open internet ("net neutrality") protections, localism in programming, and diversity in media ownership. Though retired from the Commission, he has maintained his commitment to an inclusive, informative communications landscape and now leads the Media and Democracy Reform Initiative at Common Cause. He also sits on the boards of Free Press and Public Knowledge. Prior to his time at the FCC, he served as the Assistant Secretary of Commerce for Trade Development at the US Department of Commerce during the Clinton Administration. During the period 1970 to 1985, Mr. Copps worked for Representative Fritz Hollings, for the last dozen of these years, as his Chief-of-Staff
À propos de Conférence commémorative Howard Pawley | About the Howard Pawley Memorial Lecture
La conférence commémorative Howard Pawley est une initiative du Centre pour la défense de l'intérêt public (CDIP), un organisme national à but non lucratif et organisme de bienfaisance enregistré. CDIP fournit des services juridiques et de recherche au nom des consommateurs, en particulier des personnes vulnérables, à propos de la prestation de services publics importants. CDIP se spécialise dans l'intérêt des consommateurs dans le droit et les politiques canadiennes en matière de communications (télécommunications et radiodiffusion), comparaissant souvent devant l'autorité de réglementation des communications du Canada, le Conseil de la radiodiffusion et des télécommunications canadiennes (CRTC). La conférence commémorative Howard Pawley permet d'honorer la mémoire de Howard Pawley, OC, ancien premier ministre du Manitoba (Canada), qui a longtemps œuvrer à titre de membre du conseil d'administration du CDIP. Howard Pawley était un membre de longue date du Nouveau Parti démocratique du Manitoba et un socialiste convaincu dont la plus fière réussite a été l'introduction d'un régime d'assurance automobile publique au Manitoba. Howard Pawley est décédé à la toute fin de l'année 2015. Parfait gentleman et grand conteur, il a publié en 2012 un livre de chroniques racontant sa vie en politique s'intitulant Keep True.
The Howard Pawley Memorial Lecture is an initiative of Public Interest Advocacy Centre (PIAC), a national non-profit organization and registered charity that provides legal and research services on behalf of consumer interests, and, in particular, vulnerable consumer interests, concerning the provision of important public services. PIAC specialises in the consumer interest in Canadian communications (telecommunications and broadcasting) law and policy, frequently appearing before Canada's communications regulator, the Canadian Radio-television and Telecommunications Commission (CRTC). The Howard Pawley Memorial Lecture is to honour the memory of Howard Pawley, OC, former Premier of the Province of Manitoba, Canada and long-time PIAC Board member. Howard Pawley was a lifelong member of the New Democratic Party in Manitoba and an unabashed socialist whose proudest achievement was the introduction of public automobile insurance in Manitoba. Howard Pawley passed away at the very end of 2015. He was a consummate gentleman and a great storyteller. His book chronicling his life in politics, Keep True, was published in 2012.