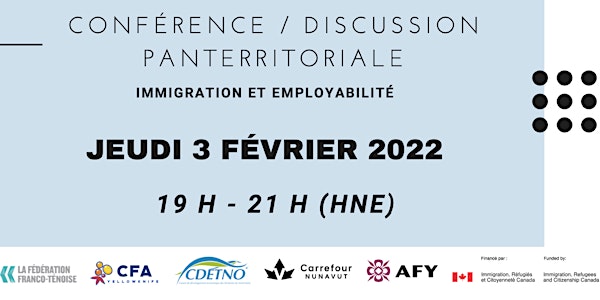 Conférence - Discussion : La rétention de la main-d'œuvre immigrante
Conférence-discussion panterritoriale en immigration et employabilité : Les plus-values et la rétention de la main-d'œuvre immigrante.
About this event
À propos de cet événement
- English follows -
Vous êtes un employeur, vous embauchez ou vous souhaiteriez embaucher des personnes immigrantes au sein de votre entreprise? Vous voulez en apprendre plus sur la rétention de la main d'œuvre immigrante ou sur les bénéfices que cela peut apporter aux entreprises?
Si c'est le cas, participez à notre Conférence-discussion en ligne le :
Jeudi 3 février 2022, de 19h à 21 h (HNE)
L'événement aura 2 volets.
Lors du premier volet, les conférenciers-panélistes aborderont les thèmes suivants :
- Les plus-values que l'immigration d'expression française apporte aux entreprises.
- Les bonnes pratiques et les défis liés à la rétention de la main-d'œuvre immigrante aux TNO, Nunavut et Yukon.
Le deuxième volet, quant à lui, consistera en une discussion de groupe sur les sujets mentionnés ci-haut.
La soirée de réseautage aura lieu après la conférence.
Un courriel avec le programme détaillé vous sera envoyé 3 jours avant la conférence. Si vous avez des questions supplémentaires, veuillez contacter notre gestionnaire en employabilité et immigration :
Lazare Koko par courriel à jobs@carrefournunavut.ca ou par téléphone au 867 979-2800, poste 204.
Au plaisir de vous re(voir) nombreuses et nombreux à cette conférence!
---
Pan-Territorial conference and discussion on immigration and employability followed by an evening of networking on the theme: The benefit and retention of the immigrant workforce.
You are an employer, you are hiring, or do you have plans to hire immigrants within your company? Would you like to learn more about immigrant workforce retention in your company or share with us your good practices on this subject?
If so, come and participate in our hybrid (face-to-face/online) conference discussion for employers on:
Thursday, February 3rd, 2022 from 7 p.m. to 9 p.m. (HNE)
The event will have two parts.
In the first part, the speakers will address the following topics :
- The benefit that French-speaking immigration brings to businesses.
- Best practices and challenges related to the retention of immigrant labour in the NWT, Nunavut and Yukon.
The second part will consist of a group discussion on the above-mentioned topics.
The networking evening will take place after the conference.
An email with the detailed program will be sent to you 3 days before the conference. If you have additional questions, please contact our immigration, recruitment, and employability referent:
Lazare Koko by email at jobs@carrefournunavut.ca or by phone at 867 979-2800, ext. 204.
Looking forward to seeing you all at this conference!