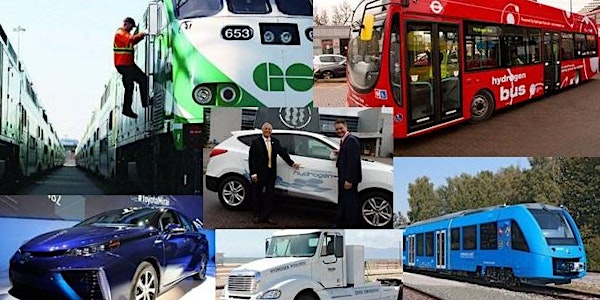 Conference Forum "Hydrogen on the Move" in Ontario
When and where
Location
Hart House Building 7 Hart House Circle Toronto, ON M5S 3H3 Canada
Refund Policy
Refunds up to 7 days before event
Description
How can hydrogen-based technologies support the de-carbonization of the transportation sector in Ontario?
On Dec. 8, join us for "Hydrogen on the Move" our full day conference and forum held at Hart House on the University of Toronto campus. This event is the fourth of our Hydrogen Business Council forums on hydrogen technology solutions, and is co-hosted by the U of T Institute for Sustainable Energy. We will bring together a comprehensive slate of speakers to present on the status of hydrogen-based transportation plans, initiatives, projects and products here in Ontario. Presenters will include hydrogen equipment suppliers and developers, potential end users, project managers, R&D leaders and various 'clean energy' stakeholders in this province. Major projects are being planned or are underway - come and get informed, ask questions and share knowledge.
Some of the session topics and key presenters:
Opening remarks from MPP Arthur Potts, PA for the Ontario Ministry of Environment and Climate Change
Panel on why Metrolinx is studying the feasibility and economics of the 'Hydrail' option for electrification of GO Transit
Presenters from Canadian hydrogen technology suppliers - eg: Hydrogenics, Next Hydrogen and Ballard Systems
Session topics on hydrogen applications for all ground transportation: rail, buses, heavy duty vehicles and fleets
Updates on the development of electrolytic H2 fueling infrastructures utilizing low emission electricity
Presentations from R&D leaders who are bringing new and improved H2 technologies to commercialization
Discussions on how best to leverage Cap and Trade funding for early stage, demonstration and fully commercial hydrogen projects.
A full day of learning and sharing will include light breakfast, lunch and networking coffee breaks.
After the close of the conference a social 'pub evening' mixer is being planned that will allow for more networking with speakers and other participants. As details are finalized more information regarding location and time will be sent to registrants.
NOTE: a provisional agenda with more details about session themes, named speakers, and affiliations of the presenters will be shown (below) with the final sent out to all participants one week prior to the event.
Dec. 8, 2017 Forum Program – Hart House – U of T Campus
8:00 a.m. - Registration and Networking - coffee and muffins
8:30 a.m. Welcome – Brad Chittick (HBC) and Kristian Galberg (U of T)
8:45 a.m. Opening Address from MPP Arthur Potts, PA for Ministry of Environment and Climate Change
9:00 a.m. Session 1: The Business Case for the Wireless Electrification of GO Transit using Hydrogen
Session Chair: Nirmal Gnanapragasam, CNL

Hydrogen as Motive Fuel for Commuter and Frieght Rail Transport - Alistair Miller (CNL)
How Canadian Fuel Cell Technology is Decarbonizing Trains in Europe and Asia - Bob Oliver (Tech KO)
Hydrail vehicle Design and Integration - Dr. Michael Fowler (University of Waterloo)
10:00 a.m. Coffee break – and Networking
10:15 a.m. Session 2: Buses and Heavy Duty Trucks – Who is doing What
Session Chair: Matt Fairlie, CEO Next Hydrogen
H2 Bus projects in Canada – an overview – Josipa Petrunic, (CUTRIC)

The

R

ole

f

or

H

y

d

ro

g

en

in Buses and

Trucki

n

g

– Nicolas Pocard

(

B

al

l

ard

Syst

e

ms) invited

Commercialization of Hydrogen Busses – Barry Dykeman (New Flyer)

Hydrogen System Solutions for Mass Transit – Rob Harvey, (Hydrogenics)
11:15 a.m. Session 3: Fleets and Supporting H2 Infrastructure
Session Chair: Robert Stasko, CEO Science Concepts International
Developing Hydrogen Transportation Infrastructure - Daniel Brock (Fasken & Martineau)

Studies on Optimizing H2 Infrastructure for Fleet Deployment – Ry Smith (Change Energy)

Opportunity to Reduce Fleet Emissions: Low Carbon Electricity to Low Carbon Fuel - Jason Van Geel (Carlsun Solutions/7GFUEL)
12:00 to 1:00 p.m. LUNCH – Buffet Style
Invited Lunch Speaker Dr David Hart, E4Tech, Switzerland "Global Report on Hydrogen Tech."
1:00 p.m. Overview of Hydrogen System Development and Deployment
How we got here, how we did it and what next? Dr. Michael Fowler, (Waterloo University)
1:30 p.m. Session 4 Panel: H2 Studies and Near-Commercial R&D at Ontario Universities
Moderator – Dr Aimy Bazylak U of T (Mechanical Engineering dept.)
Recent Results from the Copper Chloride H2 Generation Project – Kamiel Gabriel (UOIT)

Current activities at the Waterloo Fuel Cell R&D Centre - Jeff Costick (Waterloo)

Study on Grid Impacts resulting from the adoption of Hydrail in Ontario – B N Singh (Ryerson)
2:45 p.m. Refreshment and Networking Break
3:00 p.m. Session 5: Panel: How to Leverage Cap and Trade Funding for Hydrogen Projects
Moderator: TBD
OCE Programs in De-carbonization, criteria for success - Richard Worsfold (OCE)

Federal support for emerging low carbon transportation solutions (TBD)
3:45 p.m. Special Announcements and Proposed 5 minute Presentations from Local Hydrogen Entrepreneurs
4:00 p.m. WRAP-UP
4:30 p.m. – 7:00 p.m.
Proposed Reception and Networking Opportunity – details to follow