Conférence JAS d'hiver de Montréal 2017

Friday, 20 January 2017 at 6:00 PM

-

Saturday, 21 January 2017 at 1:00 PM (EST)
Event Details
We are happy to welcome you this winter season to another year of this event - Nous sommes heureux de vous inviter une année de plus à Montréal pendant la belle saison hivernale. 
---
 Draft Schedule - Horaire de base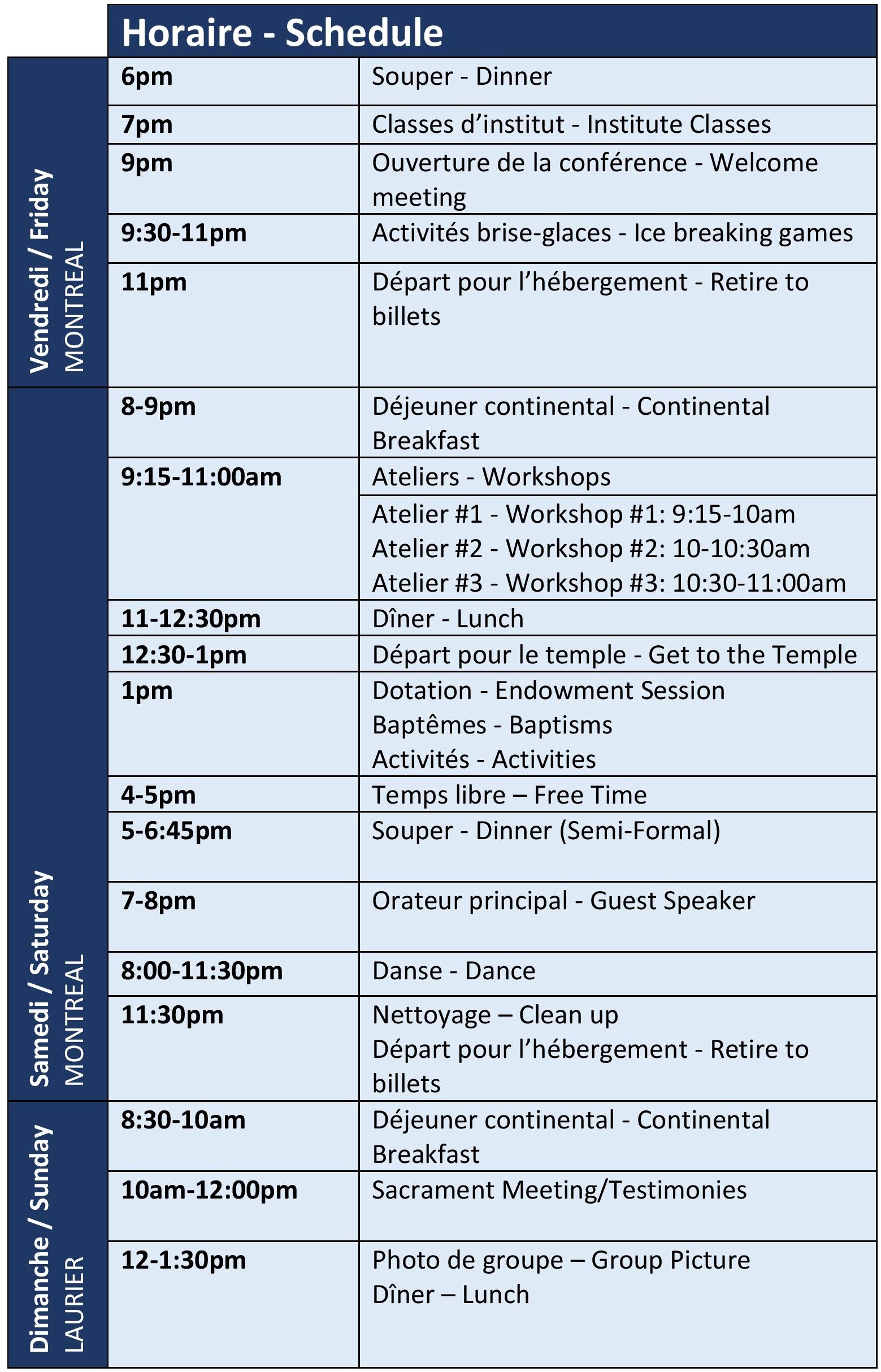 ---
Policies - Politiques de l'organisation

At the end of the form, you will be asked to accept the policies of the organisation. Here bellow are the policies! (French bellow)
Code of conduct for the duration of the conference
All members of the conference are expected to be respectful and follow the highest standards of the church. Members of the committee have the right to refuse an application or ban a member from the conference if they deem their conduct unacceptable.
I am in between the ages of 18 and 30 and am not married.
This is a conference EXCLUSIVELY for young single adults between the ages of 18 and 30. Only married adults who are on the list of authorized chaperones will be authorized to assist in the conference.
I commit to being present at the conference. If I cannot attend the winter conference 2016, I agree to inform the registration team as soon as possible.
Contact: montreal.institut@gmail.com
---
À la fin du questionnaire, vous devrez accepter les politiques de l'organisation. Les voici!
Politique de conduite lors de la conférence
Tout membre de la conférence est tenu d'être respectueux et de suivre les plus hauts standards de l'Église. Les membres du comité se réservent le droit de refuser une candidature ou d'expulser un membre de la conférence si son attitude est jugée inacceptable.
J'ai entre 18 et 30 ans et je ne suis pas marié(e)
Ceci est une conférence EXCLUSIVEMENT pour les jeunes adultes seuls entre 18 et 30 ans. Seulement les adultes mariés faisant partie de la liste des chaperons autorisés pourront assister à la conférence.
Je m'engage à être présent à la conférence. Si je ne peux plus être présent à la conférence d'hiver 2016, je m'engage à en informer l'équipe d'inscription dès que possible.
Contact: montreal.institut@gmail.com
When & Where

Montreal Stake Center - Centre de pieu de Montréal
1777 Avenue de Lorimier
Montréal, Québec H2K 3W6
Canada

Friday, 20 January 2017 at 6:00 PM

-

Saturday, 21 January 2017 at 1:00 PM (EST)
Add to my calendar
Organizer
JAS Montréal is the multistake organisation mandated by the montreal local officers to provide programs and activities for young adults in the area. It covers the three stakes of the province of Québec.
JAS Montréal est l'organisation multipieux mandatée par les officiers locales de Montréal. Nous fournissons des programmes et des activités pour les jeunes adultes dans la région. Nous couvrons les trois pieux de la province du Québec.
Conférence JAS d'hiver de Montréal 2017