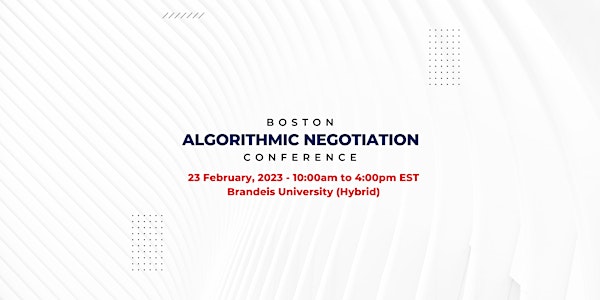 Conference on Algorithmic Dispute Resolution
A cutting-edge seminar to educate, inspire, and challenge conventional thinking around the use of analytics in dispute resolution.
By Queen's University - Brandeis University
When and where
Date and time
Thu, Feb 16, 2023 9:00 AM - 5:00 PM EST
Location
Brandeis University 415 South Street Waltham, MA 02453
About this event
The purpose of this symposium is to foster reflection among the academic and professional communities (both legal tech and public sectors) on the emergence of direct-to-public legal help applications and their socio-legal implications. The participants are invited to analyze critically the role of algorithms for access to justice both from the perspective of technological innovations as well as the socio-legal implications.
It will be an international & interdisciplinary workshop bringing together academics working in different countries from a series of different disciplines, law, mathematics, data science etc to examine this issue.
The symposium will be held at Brandeis University on Thursday, February 23, 2023. The symposium will be organized as a combination of panel discussion, invited talks, and selected submitted works.
Speakers include:
- Arvid Bell, Director - Negotiation Task Force; Lecturer on Government - Harvard University
- Lawrence Susskind, Professor - MIT
- Colin Rule, President & CEO - ODR.com
- Daniel W. Linna Jr., Senior Lecturer & Director of Law and Technology Initatives - Northwestern University
- Amy Schmitz, Professor - Michael E. Moritz College of Law
- Abdi Aidid, Professor - University of Toronto
- Anthony Niblett, Professor - University of Toronto
- Deborah Slate, Co-Founder & COO - Dispute Resolution Data
This is a hybrid event with limited in-person seating available. Registrants for online attendance will receive an email with the Zoom webinar link.
Full conference schedule and speaker list will be distributed during the week of the conference. For inquiries, please email david.liang@queensu.ca.
Agenda
10:00 AM - 10:05 AM
Opening Remarks
10:05 AM
Samuel Dahan & George Wray
10:30 AM
Amy Schmitz, Colin Rule, Debi Slate, Indraneel Gunjal
2:45 PM
Daniel W. Linna Jr.
---
Evaluating AI for Legal Services
3:15 PM
Arvid Bell
---
Harbingers of Peace? European Negotiation Networks and the Peace of Westphalia