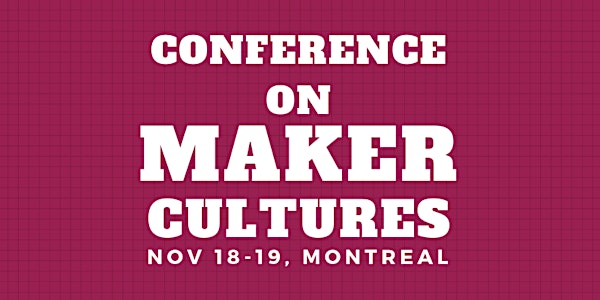 Conference on Maker Cultures, Nov 18 Symposium - Montreal
When and where
Location
Concordia University 1515 Rue Sainte-Catherine Ouest York Amphitheatre 1.605, EV Building Montréal, QC H3G 2W1 Canada
Description
The inaugural Conference on Maker Cultures will be held at Concordia University Montreal, November 18 & 19, 2018. For the very first time, this event will bring top international scholars studying maker culture together with active maker faire participants, scholars and students and the general public. Together, those active in the maker movement will engage in a deep discussion around five crucial themes: the corporatization of maker culture, cultural inclusion and exclusion, making as learning, critical making and design education, and maker cultures in everyday life.
Immediately following the Montreal Mini Maker Faire, the symposium on Sunday November 18th will allow makers to go deeper into sharing what they do, meeting new people, learning new techniques and technologies and connecting over maker enthusiasms. A full day of public panels and engaged Q&A periods will allow attendees to dive deeper into maker culture.
Maker Faires are the greatest show and tell on earth. Families, friends, strangers, educators, engineers, tradespeople, tech enthusiasts, do-it-yourselfers, hobbyists and artists from diverse cultural backgrounds, from all generations and all strands of life gather together. In a mix of science demonstration and county fair, Maker Faires are opportunities for people who engage in do-it-yourself tinkering with open-source, emergent, and disruptive technologies.
In this spirit, The first ever Maker Cultures conference will advance knowledge across the disciplines of education, sociology, fine arts and design, information science, and humanities. Together we will identify new techniques and applications of 'making' as an object of research focusing on people and culture – not simply on tools and technology.
The Sunday November 18th Maker Cultures Symposium will be held at York Amphitheatre, 1.605, EV Building (1515 Rue Sainte-Catherine Ouest), Concordia University, Montreal. View complete event details here!