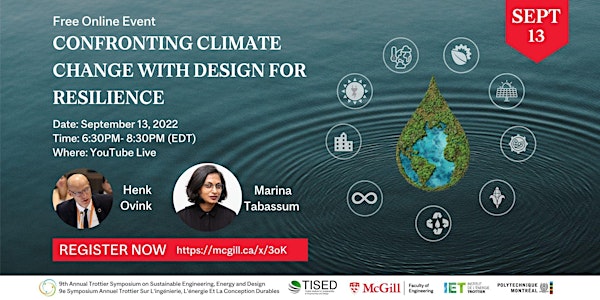 Confronting Climate Change with Design for Resilience
The 9th Trottier Symposium on Sustainable Engineering, Energy and Design
About this event
Confronting Climate Change with Design for Resilience
Join us on September 13th at 6:30 pm for this free event: "Confronting Climate Change with Design for Resilience."
The 9th Trottier Symposium on Sustainable Engineering, Energy and Design will explore success stories of sustainable engineering and design while considering the following questions:
 How can urban planners, architects and engineers incorporate nature-based solutions to build resiliency and sustainability in our communities?
What climate resilient living solutions have been implemented "on the front lines" of climate change and how can these strategies be scaled up more broadly?
To learn more, please visit: https://www.youtube.com/watch?v=sT1JOUGbEKY