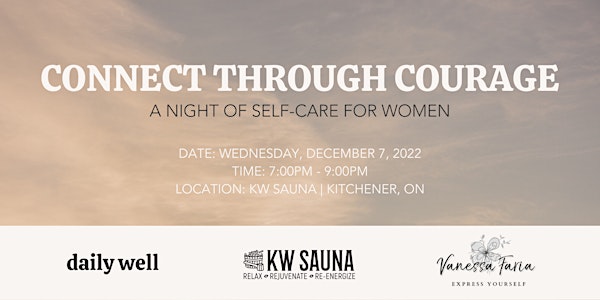 Connect Through Courage
The Connect through Courage event is a night for you. It's a night to fill your own cup and prioritize your well-being.
When and where
Location
KW Sauna 396 Victoria Street North #unit C Kitchener, ON N2H 5E6 Canada
Refund Policy
Contact the organizer to request a refund.
About this event
We are so excited to bring you a transformative wellness experience in partnership with Vanessa Faria, KW Sauna and Daily Well.
As the holidays approach and the end of 2022 gets closer - we are feeling the stress and pressure to get it all done.
The Connect through Courage event is a night for you. It's a night to fill your own cup and prioritize your well-being. Together, we'll build courage, move through breathwork and lean into discomfort with contrast therapy (hot + cold exposure). You'll leave the night feeling refreshed, rejuvenated and re-energized to end the year strong.
THE DETAILS
Arrive at KW Sauna for 7:00pm (@kw_sauna), check in and grab yourself a towel and robe to change into. Before we get started, we'll head upstairs to the lounge where you can help yourself to a drink and some snacks. Mingle with others and take a seat to kick off the night.
We will start with a releasing ceremony to honour the upcoming full moon in Gemini and set our intentions for a night of letting go.
We'll then move to the sauna, together, moving through breathwork and feeling into our bodies - reminding ourselves of our intentions we set for the evening. Following the sauna, we'll conquer the cold plunge and breathe through the discomfort - connecting through courage! Together we'll guide and encourage each other, while bursting through our comfort zones physically, emotionally and mentally.
Following the cold plunge and some well deserved relaxation in the spa, we'll head back into the sauna for a guided experience incorporating breathwork, movement and towel ceremony that will leave you feeling energized and empowered.
Throughout the night, you'll have access to the full spa, which includes 3 saunas (Dry Sauna, Russian Banya, Infrared Sauna), steam room, cold barrel, and muskoka chairs to relax.
The Connect through Courage event is meant to bring us together, build courage and resilience while filling our cups with a night of relaxation and rejuvenation.
To end the night, we'll spend time getting to know each other, building relationships and enjoying some yummy food – you'll also have access to the spa for an extra hour (until 10pm) to enjoy for yourself.
WHAT'S INCLUDED:
Delicious snacks and refreshments
Access to full spa (3 saunas, steam room, cold barrel and relaxation areas)
Guided sauna ceremony which includes breathwork and movement
Guided cold plunge
Robe + 2 towels
Meeting others and building relationships
Complimentary tea
WHAT TO BRING:
Bathing suit
Flip flops / sandals (made of rubber – they will get wet)
Water bottle
—
OUR COLLABORATORS
Megan Schnarr (@the.dailywell)
Megan is a passionate mindset and feminine life coach, serial entrepreneur and a lover of all things wellness. She has a holistic approach to coaching, focusing on the mind, body and soul and looking at all areas of her clients life. She's an advocate for self-love, prioritizing yourself, being in tune with your mind and making micro lifestyle changes in your day to day life. Her mission is to help women discover their most favourite self, and show up as her every single day.
Megan is a certified mindset coach and NLP, EFT and Hypnosis Practitioner. She uses these modalities, along with talk-therapy, and her background in business and marketing to help her clients thrive in both business and life.
Vanessa Faria (@vaness.faria)
Vanessa Faria is a Licensed Soul Therapist™, Generational Healer® + Soul Parent | Spiritual Child™ Evolutionary Educator.
She works with women to help heal ancestral trauma, conditioning and imprinting that keep you from living your life in a way that is authentic and empowering to you. She supports you in healing the emotions, limiting beliefs, physical memories and spiritual disconnection that keep you from fully expressing who you really are. She also supports women to prepare for conscious conception, as well as new mothers, and seasoned mothers connect to the spirit of their child and honour themselves as women and mothers.
Vanessa also teaches movement and guided journeys with pilates, yoga, and dance locally and supports those who want to live a healthier, all natural lifestyle when it comes to their personal and family's well being.
www.vanessa-faria.com
KW Sauna (@kw_sauna)
Located at 396 Victoria Street North, unit C, KW Sauna is a day spa located in the heart of Kitchener. Our spa is dedicated to creating a space of well being where you can relax, rejuvenate and re-energize your body, mind and soul. Let your stress melt away by enjoying treatments in our Steam Room, Finnish Sauna, Infrared Sauna, Russian Banya, Cold Water Barrel, relaxation areas and our lounge. Each of our saunas has a unique climate that varies in temperature and humidity to give you an all-embracing, comprehensive and unforgettable spa experience.