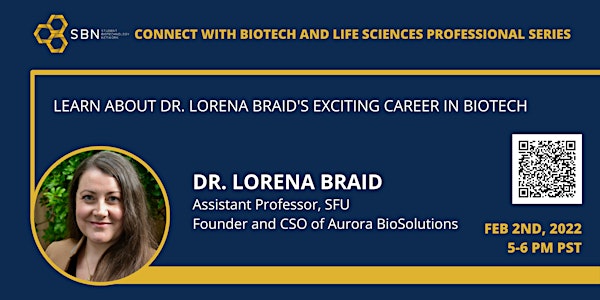 Connect with Biotech and Life Sciences Professionals: Dr. Lorena Braid
Connect with Dr. Lorena Braid, Assistant Professor in the MBB Department at SFU, Founder and Chief Science Officer of Aurora BioSolutions
About this event
The SBN is pleased to announce our first event of the Connect with Biotech and Life Sciences Professional Series for 2022. We are delighted to be joined by Dr. Lorena Braid, Assistant Professor in the MBB Department at SFU, Founder and Chief Science Officer of Aurora BioSolutions.
Dr. Lorena R. Braid is an Assistant Professor in the MBB department at Simon Fraser University. She holds a Canada Research Chair in Mesenchymal Stromal Cell Biology, an award that recognizes exceptional early career researchers and emerging leaders in their fields. She is also the Founder and Chief Science Officer of Aurora BioSolutions, where she leads a research team developing stem cell-based therapeutics for biological and chemical defence and severe burn injury. Dr. Braid was awarded a Ph.D. in Molecular Biology and Biochemistry by Simon Fraser University in 2011, supported by seven competitive doctoral scholarships. In 2014, Dr. Braid completed an NSERC Visiting Fellowship at Defence Research and Development Canada, which explored the usefulness of stem cells for the Canadian Armed Forces and launched her current research programs. She is an active member of the International Society for Stem Cell Research (ISSCR) and International Society for Cell and Gene Therapy (ISCT), BCRegMed and Life Sciences BC.
Through this opportunity, students can expect to:
Learn about careers in the life sciences and biotech industry
Engage with Dr. Lorena Braid
Q&A with Dr. Lorena Braid
Due to the nature of the event, there will be limited attendance. Those that are unable to secure a spot will be put on a waitlist.