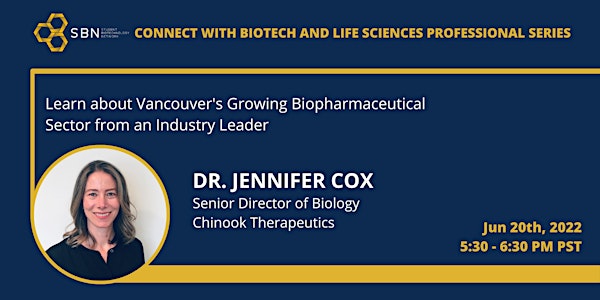 Connect with Life Sciences and Biotechnology Professionals - Dr. J. Cox
Meet Dr. Jennifer Cox and learn from her experiences as she navigated her career into biopharmaceuticals.
About this event
Dr. Cox is a Senior Director at Chinook Therapeutics, where she leads a team of in vitro biologists, in vivo pharmacologists, and computational biologists with a common goal of discovering and advancing novel precision-based treatments for severe and chronic kidney diseases. She obtained a BSc at UVic, a PhD at UBC, completed a postdoc at Genentech, and held positions at AnorMED Inc, Novo Nordisk, and Inception Sciences Canada before contributing to the launch of Chinook. She co-led the discovery of CHK-336, which is a small molecule lactate dehydrogenase inhibitor currently in development for the treatment of primary hyperoxalurias and other disorders caused by excess production of oxalate.
This hour-long session in the Student Biotechnology's "Connect with Life Sciences and Biotechnology Professionals" series brings us a leader in Vancouver's growing biopharmaceutical industry. Learn how you can translate your education into creating new achievements in science and build your own legacy in the industry.