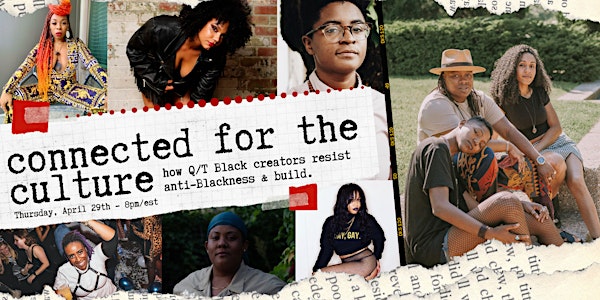 Connected For The Culture: How QT Black Creators Build Through The Pandemic
QT Black creators are the Blueprint for queer scenes & social life. We're coming together to get connected & stay connected for the culture.
Refund Policy
Contact the organizer to request a refund.
Eventbrite's fee is nonrefundable.
About this event
Q/T Black Creators Are the Blueprint.
Our culture, music and aesthetics influce queer scenes, film and nightlife around the world. While the world loves Black culture, we know the fight for Black liberation and justice for our people is a daily struggle. Black creatives are visionaries who build spaces that provide Black communities an escape, a community and an opportunity to come into ourselves - our style, our sexuality and our calues - in loving and supportive spaces.
In an anti-Black world, Q/T Black creators are building transformative spaces that celebrate our style, our cultures and communities - honouring our resilience, embracing our softness and allowing Black folks to explore kink, sexuality and connection in deep and meaningful ways.
Connected For The Culture brings an international line-up of Q/T Black creators together to talk about event curation, how they've continued organizing virtual spaces through the pandemic, and what queer event organizing looks like as the #BlackLivesMatter movement brings our struggles to the forefront in so many communities.
Now more than ever we need to get connected and stay connected for the culture!
The Creators
Jewel The Jem
Born and raised in Brooklyn, East New York by a Haitian single Mother, Jewel Cadet is an Entertainer, Healer, Speaker, Educator & Entrepreneur. She is an unapologetic Black Queer abolitionist and freedom fighting Femme for Black lives. A Social Justice Organizer for the rights of Black women, girls, femmes and for the transgender and gender non-conforming community. She owns an event planning business, Jewel The Gem Productions, that hosts her own talk show and produces community spaces that center Black joy, restoration and healing. She has been recognized from BET to NYU for her dynamic work as a Community Organizer. As a multi-awarded speaker and educator who values the healing that comes with being vulnerable to her experiences as an Intimate Queer Partner Violence Survivor, Jewel's life's mission is to amplify the voices of those who are silenced and support them on their journey to resilience.
Morgan Willis
Morgan (she.they) is a writer, producer and adventurer. She's been a part of bklyn boihood since 2010, where she writes, co-organizes workshops and helps make the parties go.
As a writer, her work includes editing the anthology, Outside the XY: Queer, Black and Brown Masculinity, writing essays, blogs and stories that amplify our Black and brown queer and trans stories.
Morgan is King Auntie, an explorer and has worked with community organizations across the country to develop their vision and work.
smallWORLD Collective
smallWORLD Collective is an organization whose mission is to produce cultural, artistic, and informative programming, promote sex and body positivity, and uplift Black Queer Women, TGNC people, and other marginalized communities, through intentionally curated events, art, fashion, grassroots media, and activism. Based in Chicago, Illinois sWC collaborates with artists, entrepreneurs, and organizations from around the city and worldwide.
Fame Neal
Fame Neal (she/her), a proud Black, Queer, Femme, is the CEO of Lezcronymz an LGBTQ, Womxn's media and event production company based in Philadelphia, PA, Host of Edible Podcast and Sex & Music LIVE, founder of EdibleWordz.com and a proud mom.
After spending two years building the clothing brand Lezcronymz and being on the Philadelphia "Gay Scene" she recognized a need for more queer, black and brown spaces that catered to niche communities. Bringing with her a background in Coorporate Event Planning she began coordinating LGBTQ Events for Queer Womxn of Color taking on major coorporate sponsors.
Fame began utilizing the Lezcronymz platform to begin advocacy efforts for Queer, Black and Brown event visibility on popular travel websites, including UWishunu and Visit Philly, which led to increased corporate accountability for their failure to represent black and brown gay events.
In 2018, the event series Color Scheme was born. The event series seeks to intentionally utilize POC-owned spaces for events in efforts to reinvest in marginalized small businesses. In 2020, she began connecting with Philadelphia-area sex workers rights organizers to help bring attention to advocacy and protection efforts.
Through media coverage and pro-bono marketing & event production services, Lezcronymz continues to create spaces for the Black, Queer, & Kink Communities.
Marisa Grant
If you ever wanted to make something happen Marisa is the person to do it! Marisa started the party STRAPPED with no guidance; just drive and ambition. They wanted to make the party of their dreams come to life. This Queer event producer has been creating events and workshops for the past 3 years with great success. Their goal is to always make spaces inclusive to queer people of colour and is willing to do the necessary work to create that.