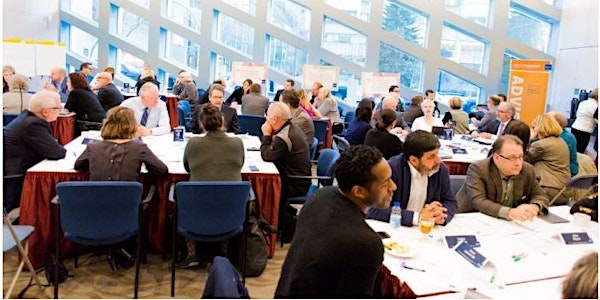 ConnectEdmonton & Edmonton Section Annual General Meeting
Location
University of Alberta Faculty Club
11435 Saskatchewan Drive Northwest
Edmonton, AB T6G 2G9
Canada
Description
Abstract:

When the City of Edmonton updated its strategic plan for 2019 – 2028, Stantec was hired to work on engagement. The strategic plan shapes policies, plans, and programs that guide everything the City of Edmonton does, from the Corporate Business plan, through day-to-day operations. From the start, the City was clear that it wanted to hear from the diverse voices that make up this growing community. The City recognizes that expectations are changing and to incorporate those unique voices in the project required Stantec to work with the City to generate a robust and creative engagement plan. A large number of diverse networks were engaged to harvest voices from the various businesses, organizations, groups and people that reflect the diversity of the city's demographic and geographic footprint.

Michèle Perret was the Project and Engagement Lead and worked with the City, under Stephanie McCabe's leadership of the City's Urban Form and Corporate Strategic Development, between January 2017 and May 2018. Together, Stantec and the City designed and executed 82 facilitated discussions, 11 public sessions and numerous discussions with students across the city regarding Council's draft vision 2050, strategic goals and principles.

During the preliminary engagement in 2017, the team was encouraged to engage Indigenous professionals and youth, which led to several interesting discussions including a half day workshop with Indigenous youth at City Hall involving a City Councilor. Other conversations took place with newcomers, university students, academic leaders, business leaders, and the general public.

Despite the different backgrounds of stakeholders and the public, similar themes emerged that informed the City's renewed strategic plan. Join us on April 18 to better understand the journey of engagement for this important project and how diverse voices continue to be an important element to bringing the plan to life.
Presenter:

Stephane McCabe, M.A.Sc., P.Eng.
Stephanie McCabe is an accomplished executive leader and professional engineer, who leads initiatives that tangibly improve the livability, mobility and sustainability outcomes for the City of Edmonton and the people of Edmonton. She mobilizes teams and works in collaboration with diverse community groups and industry professionals, to strategically advance collaborative efforts towards continuous improvement.
Stephanie was born and raised in Edmonton. She obtained a Bachelor of Science in Civil Engineering from the University of Alberta, and a Masters of Applied Science in Transportation Planning from the University of Toronto.

Stephanie first joined the City of Edmonton in 2002 and since that time has held a number of roles including: Transportation Engineer; Director of Transportation Policy Implementation and Evaluation; Director of Economic Investment and Development; Director of the Program and Service Review; and Branch Manager of Corporate
Strategy. She recently started a new role as Deputy City Manager of Urban Form and Corporate Strategic Development. Stephanie loves to spend time outside in all seasons with her family.
Michele Prette, M.Ec
Michele brings over 26 years of experience working with stakeholders and communities between Kitimat, BC and Montreal, PQ. Michele has worked with a variety of stakeholders, Indigenous communities and the general public on controversial projects that are emotionally charged. She relies on her conflict management training and experience to generate productive meetings in challenging situations. It is important to Michele that participants in projects feel safe and comfortable voicing their opinions in order to generate meaningful feedback that can inform decisions.
Michele has worked most of her career in industry on large, high profile, linear projects and managed teams of professionals and multi-million dollar budgets. Michele has been responsible for the development and execution of a variety of engagement and Consultation strategies, plans, processes, evaluation tools and frameworks. She has a track record of generating creative, strategic and effective solutions in challenging environments.

Michele holds a Master of Arts degree in Economics from Queens University in Kingston and a Bachelor of Arts degree in Economics from the University of Alberta. Her career started in the automotive industry with General Motors, transitioned to pipelines with Enbridge and is now consulting with Stantec.