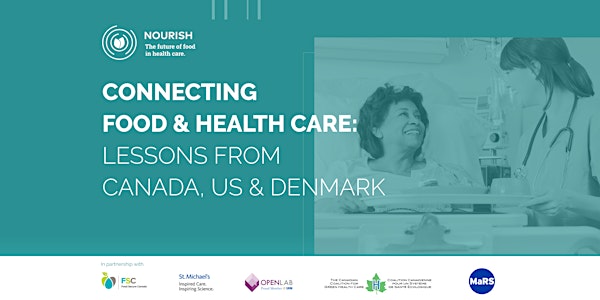 Connecting Food & Health Care: Lessons from Canada, US & Denmark
Location
Li Ka Shing Knowledge Institute– St. Michael's Hospital
209 Victoria Street
Room 211
Toronto, ON M5B 1T8
Canada
Description
Nourish invites you to a lunch hour of presentations and discussions with local and international guests who will be sharing their inspiring stories of transformative change towards addressing malnutrition and sustainable food in hospitals and other healthcare facilities in Canada, Denmark and United States.
Two Nourish events will be hosted in Toronto on September 10, 2018 - this event and a second event later in the afternoon at MaRS Discovery District.
Presentations will be followed by a moderated discussion and Q&A. This is a bring-your-own-lunch event. Light refreshments will be served.
Guests:
Dr. Jens Kondrup
Senior Physician, Head of Clinical Nutrition,
Copenhagen Hospital Corporation, University of Copenhagen
Jens brings over a decade of experience around food in Danish health care focused on clinical nutrition, advancing organic procurement and quality of food beyond health care, and insights from his work as the co-founder of the Copenhagen House of Food established by the City of Copenhagen with the mission to create a healthy, happy and sustainable public food culture.
Skip Skivington
Vice President, Healthcare Continuity and Support Services,
Kaiser Permanante
Skip has worked at Kaiser Permanente for over 25 years focusing on nutrition services, sustainable procurement, and public policy. He was instrumental in developing the executive strategies that led to Kaiser Permanente's inclusion in the prestigious Billion Dollar Roundtable in 2014 and is currently focusing on ending homelessness of the medically frail and elderly. Kaiser Permanente is a supporting partner of Michelle Obama-led Partnership for a Healthier America, and one of the early adopters of Health Care Without Harm's Healthy Food in Health Care framework.
Bridget Davidson
Director, Canadian Malnutrition Task Force, Canada
Bridget had led CMTF for over 8 years and brings extensive knowledge in nutrition care through her experience working as a clinician, dietitian, and consultant with various healthcare institutions.
---
Event Program:
12pm– Welcome and context-setting- Hayley Lapalme (Nourish) & Heather Fletcher (St. Michael's Hospital)

12:15pm– Speaker presentations

12:45pm– Moderated Discussion

1:00pm– Q&A / Roundtable (option to depart)

1:30pm- Event Ends
---


Partners:
Food Secure Canada, MaRS Discovery District, St. Michael's Hospital, OpenLab, The Canadian Coalition for Green Health Care