Imagine millions of people meditating for world peace! A chain of hope embracing the world and transforming the atmosphere of our planet.
About this event
On International Day of Peace, Heartfulness is once again inviting everyone, everywhere, to come together and meditate for a Peaceful Planet.
At 8:30 p.m. local time, join peace messengers from around the world, including Jeremy Gilley, founder of Peace One Day, award-winning film director Shekhar Kapur, and actor Kabir Bedi, in conversation with Heartfulness Guide, Daaji.
At 9 p.m. local time, join and enjoy a guided group meditation to create a chain of peace around the world.
After the success of Peace Day 2020, the event will once again be broadcast in 28 languages.
Register now at www.heartfulness.org/PeaceDay then, on the day, select your preferred language and dive deep into a peaceful experience.
Heartfulness is an international non-profit organization and an NGO partner of the United Nations DPI. Offering simple 100-year-old meditative practices for overall well-being, Heartfulness recognizes that peace starts within each individual heart. Over 14,000 certified volunteer trainers offer these simple methods for a better life at no cost, helping to create a better world.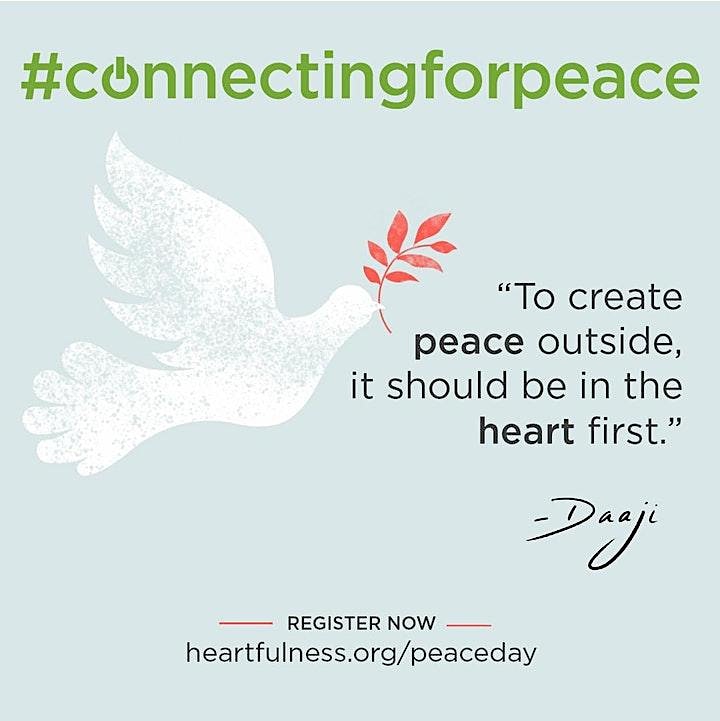 Organizer of Connecting for Peace | International Peace Day | Heartfulness Meditation