Connecting intelligence: I.A. entre Montréal & le Maghreb
About this Event
** English will Follow **
Avec un environnement technologique en constante croissance et une population de plus en plus avide de nouvelles technologies, le Maghreb est aujourd'hui un océan d'opportunités pour le développement de talents, de business et en termes d'innovation. Montréal est bien connue pour être un leader dans ces secteurs-là, sa culture et sa population variée font de la ville un environnement parfait pour l'innovation. Aujourd'hui, et à travers notre évènement, nous allons essayer de trouver des moyens et des solutions pour développer ces secteurs-là en Afrique du Nord, en utilisant le modèle et l'expertise Québécoise.
« Connecting intelligence » est un événement qui vise à faire avancer, des conversations conduisant à comprendre comment les entrepreneurs et les organisations de Montréal et du Maghreb pourraient collaborer pour avoir un impact positif sur la vie de nombreuses personnes.
Connecting Intelligence discutera des opportunités d'affaires et d'écosystème liées à l'IA entre Montréal et l'Afrique du Nord :
Sensibiliser l'écosystème de l'IA de Montréal en Afrique du Nord.
Explorer les moyens pour l'écosystème d'IA des pays nord-africains de renforcer sa présence à Montréal.
Promouvoir la création de ponts entre les écosystèmes.
Ce panel est ouvert aux personnes de tous les secteurs, car l'IA n'est pas un secteur mais une science qui pourrait s'appliquer à tous les secteurs. Les secteurs présents comprennent : les jeux vidéo, les sciences de la vie, la cyber sécurité, les technologies de pointe (Fintech), l'aérospatiale, les technologies de fabrication avancées, les télécommunications, l'agroalimentaire et autres.
Les portes ouvrent à 17 :30, le panel commence à 18 :00.
Si aujourd'hui l'événement « Connecting intelligence » a été organisé, c'est grâce à l'étroite collaboration entre la Jeune Chambre Marocaine du Québec, MTL NewTech ainsi que la Jeune Chambre de Commerce Algérienne du Canada, et le support du Desjardins Lab du Mouvement Desjardins.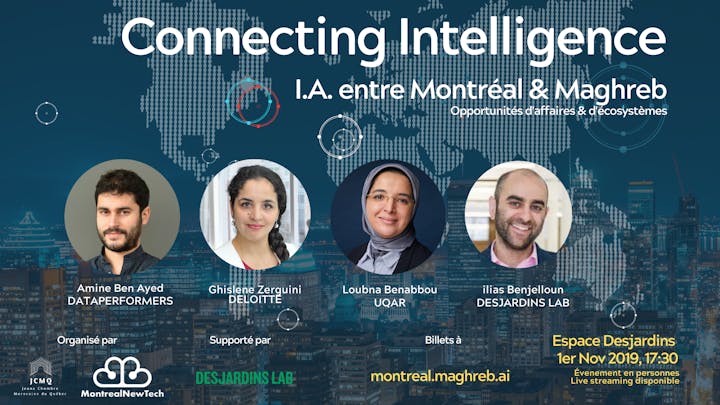 With a fast-growing environment in technology and a population who is becoming more avid for technology Maghreb is an ocean of opportunities for developing talent, business and innovation. Montreal is well known for being a leader in those sectors, its mixed culture and population makes it the perfect environment for innovation, and today we are aiming - through our event- to help the countries of North Africa grow in the business.
"Connecting Intelligence" aims to push forward, conversations leading to understanding how entrepreneurs, and organizations in Montreal and Maghreb could collaborate to impact the lives of many positively.
Connecting Intelligence will discuss the opportunities in business and ecosystem related to AI between Montreal and North Africa:
Raise awareness of Montreals' AI ecosystem in North Africa.
Explore ways for North African countries' AI ecosystem to strengthen its presence in Montreal.
Promote the creation of bridges between ecosystems.
This panel is open to people from all sectors, as AI is not a sector but science that could be applied to all sectors. Sectors invited include video games, life sciences, cyber-security, "deep tech" or fintech, aerospace, advanced manufacturing technologies, telecom, agritech and others.
The door opens at 5 h 30 pm, the panel starts at 6 pm.
"Connectin Intelligence" is possible thanks to a close collaboration between Jeune chambre Marocaine du Québec, Jeune chambre de commerce algérienne du Canada & MTL NewTech, with the support of Desjardins Lab of the Desjardins Cooperative