In-Conversation Event with Professor Brent Crosson, on his new book "Experiments with Power: Obeah and the Remaking of Religion in Trinidad"
About this Event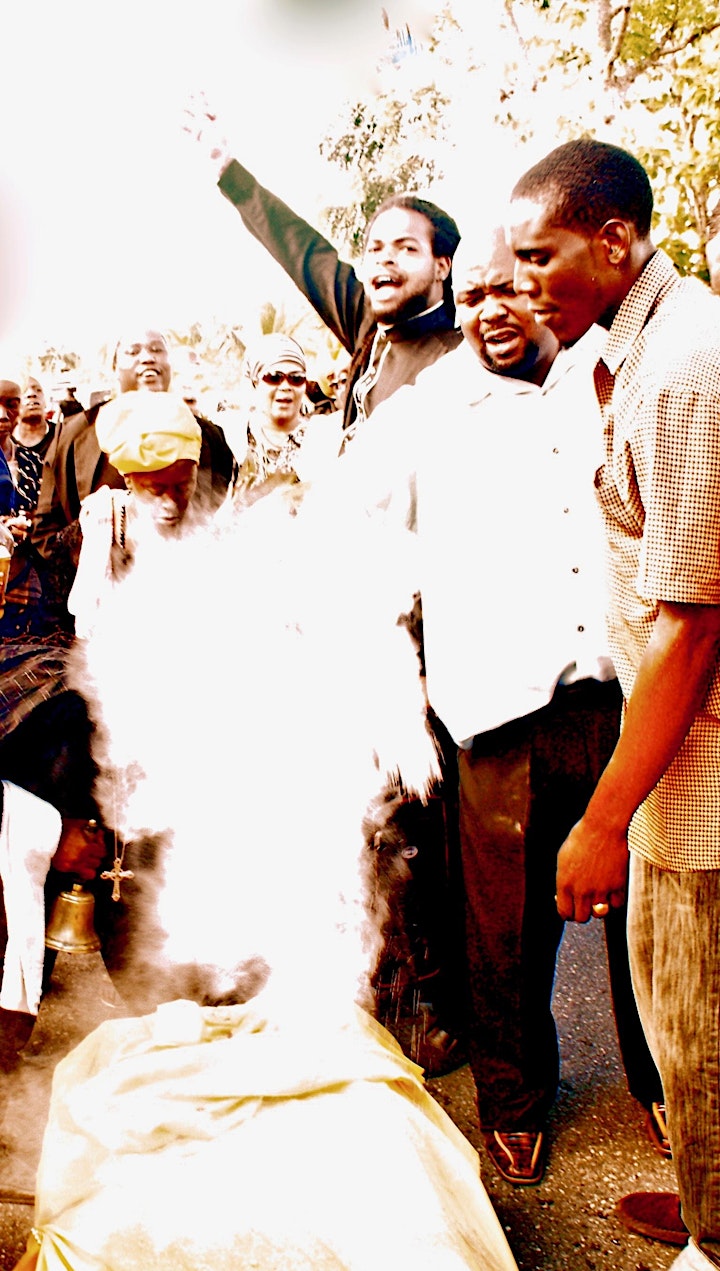 The Connaught Global Challenge Initiative, Entangled Worlds: Sovereignty, Sanctities and Soil is pleased to present an in-conversation event with Professor J. Brent Crosson (Texas-Austin), author of "Experiments with Power: Obeah and the Remaking of Religion in Trinidad" (2020, Chicago Press).
Book Description:
In 2011, Trinidad declared a state of emergency. This massive state intervention lasted for 108 days and led to the rounding up of over 7,000 people in areas the state deemed "crime hot spots." The government justified this action and subsequent police violence on the grounds that these measures were restoring "the rule of law." In this milieu of expanded policing powers, protests occasioned by police violence against lower-class black people have often garnered little sympathy. But in an improbable turn of events, six officers involved in the shooting of three young people were charged with murder at the height of the state of emergency. To explain this, the host of Crime Watch, the nation's most popular television show, alleged that there must be a special power at work: obeah.
From eighteenth-century slave rebellions to contemporary responses to police brutality, Caribbean methods of problem-solving "spiritual work" have been criminalized under the label of "obeah." Connected to a justice-making force, obeah remains a crime in many parts of the anglophone Caribbean. In Experiments with Power, J. Brent Crosson addresses the complex question of what obeah is. Redescribing obeah as "science" and "experiments," Caribbean spiritual workers unsettle the moral and racial foundations of Western categories of religion. Based on more than a decade of conversations with spiritual workers during and after the state of emergency, this book shows how the reframing of religious practice as an experiment with power transforms conceptions of religion and law in modern nation-states.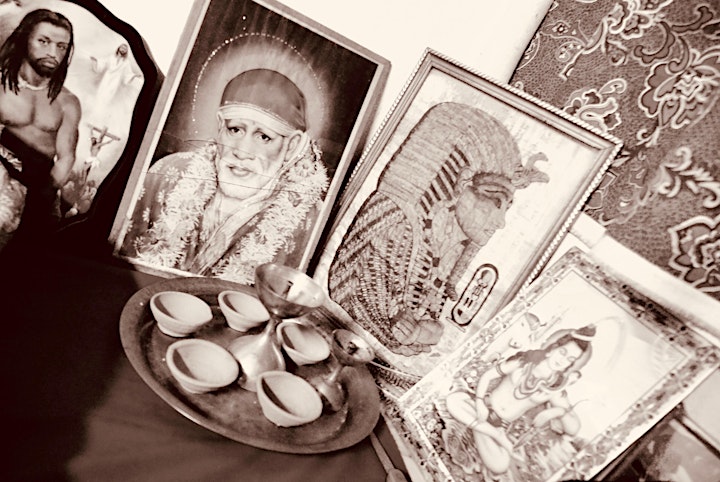 Brent Crosson is an anthropologist of religion and Assistant Professor at the University of Texas-Austin. His research has focused on contestations over the limits of legal power, science, and religion in the Americas. Prior to joining the faculty at UT Austin, he was an ACLS/Mellon Dissertation Completion Fellow at UC Santa Cruz and a Ruth Landes Memorial postdoctoral fellow in cultural anthropology at NYU. His first book--Experiments with Power: Obeah and the Remaking of Religion in Trinidad--is published with University of Chicago Press (2020). His research on Caribbean practices of healing and legal intervention--known as obeah, spiritual work, or science--has been published in a number of journals, including Method and Theory in the Study of Religion, The Journal of Africana Religions, Cosmologics, and American Religion. His special issue in the journal Ethnos--"What Possessed You?"--explores the relationship between spirit possession, material possessions, and political sovereignty. His work on race relations and solidarity has appeared in Anthropological Quarterly and the Duke University Press journal Small Axe. His current research focuses on climate change, religion, and conceptions of energy, with chapters on these issues forthcoming in the edited volumes Mediality on Trial, Climate Politics and the Power of Religion, and Critical Approaches to Science and Religion.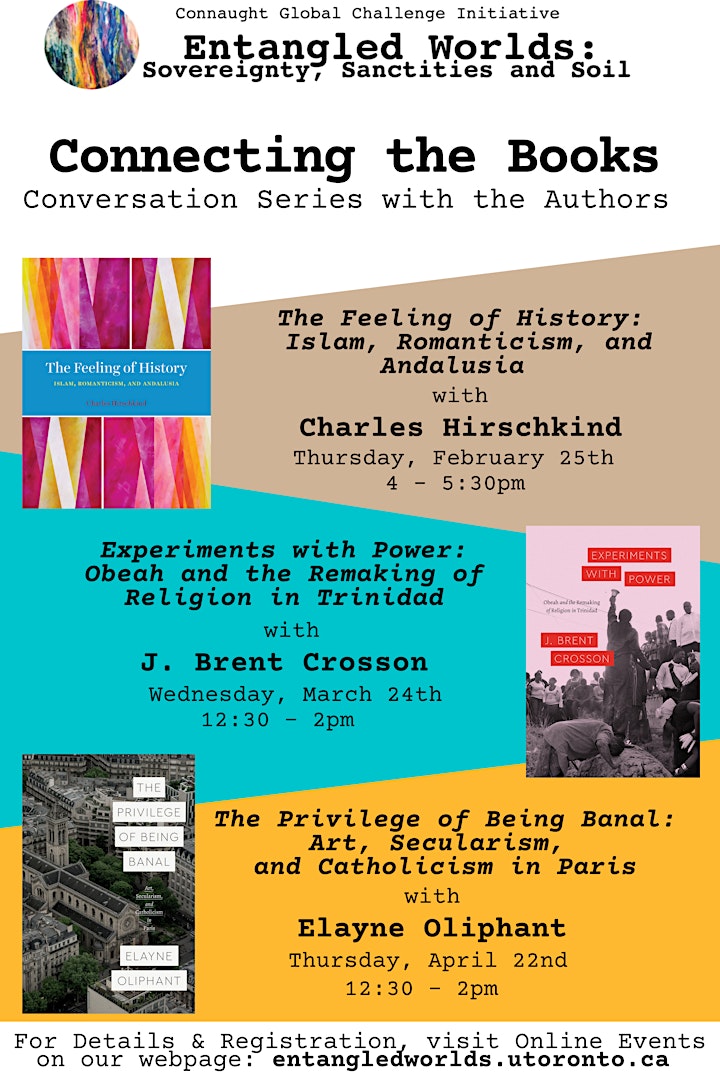 This event is part of the Entangled World's new, online series, Connecting the Books. An extension of the Entangled Worlds' "Holy Infrastructure" Reading Group, which has thus far considered the transdisciplinary ways in which infrastructures, sovereignties, charisma, and the political are inextricably linked, Connecting the Books seeks to further this analysis by considering these themes in connection with three recently published ethnographies and their authors. This series also includes a conversation with Charles Hirschkind's "The Feelings of History: Islam, Romanticism, and Andalusia" on February 25th; & Elayne Oliphant's "The Privilege of Being Banal: Art, Secularism, and Catholicism in Paris" on April 22nd.
The format of these events will include a brief introduction by an advanced graduate student, foregrounding the themes of Holy Infrastructures in relation to the respective ethnography, followed by a brief presentation by the author. General discussion and question-answer period to follow.
Since these are in-conversation events we ask that attendees read the respective ethnographies or part of them, which can be found in the University of Toronto online catalogue.
Zoom links will be provided to those who RSVP via Eventbrite. Zoom rooms will be open from 30 minutes prior to start time, for those wishing to gather beforehand.
PLEASE EMAIL ENTANGLEDWORLDS.ANTHROPOLOGY@UTORONTO.CA IF THERE ARE ANY ISSUES ACCESSING OUR ZOOM LINK!