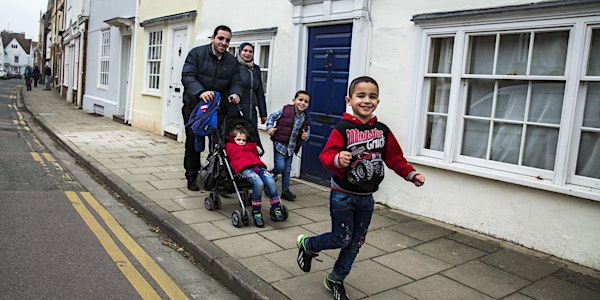 Connections Between Refugee Sponsorship and Complementary Pathways
Research Colloquium on Refugee Sponsorship: Connections Between Refugee Sponsorship and Complementary Pathways
About this event
28 October 2021 9:30am-11:30am EST/14:30-16:30 GMT/15:30-17:30 CEST
As part of the Research Colloquium on Refugee Sponsorship, The Refugee Hub and the Migration Policy Institute invite you to join us for a workshop exploring connections between community sponsorship and complementary pathways.
This workshop will focus on the roles that sponsorship can play in developing, building out and adapting complementary pathways to protection for refugees, with a focus on education pathways, pathways for humanitarian admission, and economic and labour pathways. 
The event will feature an expert panel that includes international and regional policy specialists, practitioners, advocates, and researchers.
This workshop is part of the Refugee Hub's Colloquium on Refugee Sponsorship, run in partnership with the Institute for Research into Superdiversity at the University of Birmingham and the Centre for Refugee Studies at York University.
Our speaker list follows:
Mustafa Alio, Managing Director of R-SEAT (Refugees Seeking Equal Access at the Table), co-founder of Jumpstart Refugee Talent
Giulio di Blasi, Head of Global Operations at the Refugee Hub and Director of GRSI Europe
Susan Fratzke, Senior Policy Analyst at the Migration Policy Institute's International Program
Fiona Kendall, European and Legal Affairs Advisor, Federation of Protestant Churches in Italy (FCEI)- Mediterranean Hope 
Michelle Manks, Senior Manager of Durable Solutions for Refugees at the World University Service of Canada
The event will be moderated by Kate Hooper, Policy Analyst at the Migration Policy Institute.
We hope you can join us for this exciting event!
About the Research Colloquium on Refugee Sponsorship:
Over the course of 2021, the Research Colloquium on Refugee Sponsorship is bringing together leading scholars and experts to examine key questions about the study and practice of community-based refugee sponsorship. Sponsorship has a 40+ year history in Canada and is being adopted by an increasing number of countries in Europe and around the world. As new programs and models develop, it is an important moment to take stock of existing knowledge, critically re-examine assumptions, and chart a forward-looking agenda for knowledge creation and critical inquiry. The Colloquium is coordinated by the University of Ottawa Refugee Hub, with support from the Alex Trebek Forum for Dialogue and the Social Sciences and Humanities Research Council.