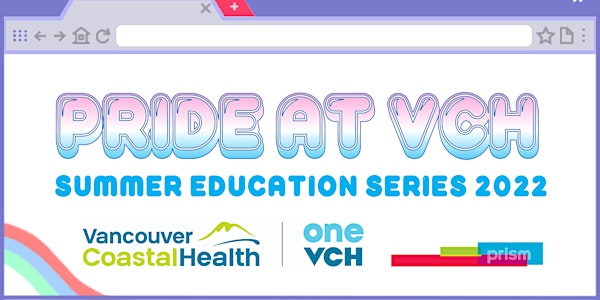 Connections & Clinical Approaches: GDCY on the Autism Spectrum
The Connections and the Clinical Approaches: Learning Gender Diverse Children and Youth who are on the Autism Spectrum
About this event
2022 VCH Prism Service's Summer Education Series
In this presentation, participants will learn about different studies and findings related with GDCY who are on the autism spectrum. Participants will learn about the unique challenges that this group may face developmentally and socially. Discussion will address ways to develop social transition and support plans for GDCY who are on the autism spectrum who want to live their affirmed gender openly. Discussion will also focus on ways to implement the care plan in various settings.
• A clinical snapshot of different studies and research that has done with GDCY on the autism spectrum
• Current trends of GDCY on the autism spectrum seeking out care and support for their specific needs
• A brief video about this population. Presentation: a wide range of roles and expressions.
• The characteristics and challenges in working with GDCY on the autism spectrum.
• Address some treatment concerns when working with this population
Dr. Wallace Wong (he/him) is registered psychologist in both California and British Columbia. He has been working with the LGBT population since 1996. While he continued to work with the LGBT population, he has also worked with children and youth who present with different sexual behavioural issues/ juvenile sex offenders for 26 years. He worked for the Ministry of Children and Family Development at the Adolescent with programs include Child and Youth Mental Health (CYMH), Adolescents Sexual Health Program (ASH), and the Gender Health Program (GHP) for 18 years and recently retired in August 2021. Dr. Wong currently maintains his private practice working mainly with children and youth with different sexual health related concerns. He has made numerous trainings and workshops both locally and internationally related to this population.
Dr. Wong has done research for the transgender population for numbers of years, and they can be found in different professional journals. Dr. Wong is also an author and published 3 sexual health related children book called, When Kathy is Keith, It's Gay and It's Okay, and My Positive Uncle.