Description
Please join us on April 8 from 5:00 pm – 9:30 pm for a live musical performance and introduction to the performing arts. The performing arts are a gold mine for networking and Board opportunities; yet many people shy away from them due to their inaccessibility. Donna Bennett & Brian Finley will demonstrate how context and intuition play a role in how music resonates with different people, so that you may speak confidently; while also learning new techniques for networking.
More about Donna & Brian...
Donna & Brian were recently appointed to the Order of Canada for their dedication for fostering the performing arts, musical education and community building. They are not only partners in music and business, but in life as well. Their relationship has inspired a host of original compositions including songs, musicals and operas.
Together, they will perform some of their favourites, focusing on heroines from Brian's musicals and operas including "Rapunzel" from Rapunzel, "Rose" from The Pencil Salesman and others. We will challenge you to delve deeper into the music, inviting you to use your intuition to uncover and share your own truths about what you hear.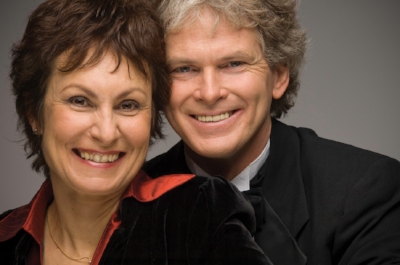 Donna Bennett is the other co-founder of the Westben Arts Festival Theatre and is a Canadian soprano who has sung with the Canadian Opera Company, the Royal Opera, Opera Atelier, Toronto Operetta Theatre, Tafelmusik, Toronto Symphonietta, Orchestra London, Victoria Symphony and the Kitchener-Waterloo Symphony Orchestra.
Having performed in England, Germany, Italy and in the US, she has also toured extensively across Canada with pianist and husband Brian Finley. She has also recorded for CBC, CFMX, KING-FM (Seattle) and the BBC in London.
Brian Finley is the co-founder of Westben Arts Festival Theatre as well as its Artistic & Managing Director. He also continues his multi-faceted career as a pianist, composer, director and impresario.
As a pianist, Brian has performed with numerous orchestras including the Dallas Symphony and Calgary Philharmonic as well as at the Olympic Music Festival in Washington, Wigmore Hall in London, England and the Glenn Gould Studio in Toronto. He has appeared in over 10 international piano competitions including the 8th International Tchaikovsky Piano Competition in Moscow, and he won the third prize in the AMSA International Competition in Cincinnati as well as the Gina Bachauer Award in Dallas. In 2002, Brian was awarded the Queen Elizabeth Golden Jubilee Medal in recognition of his work within his community and with his fellow Canadians.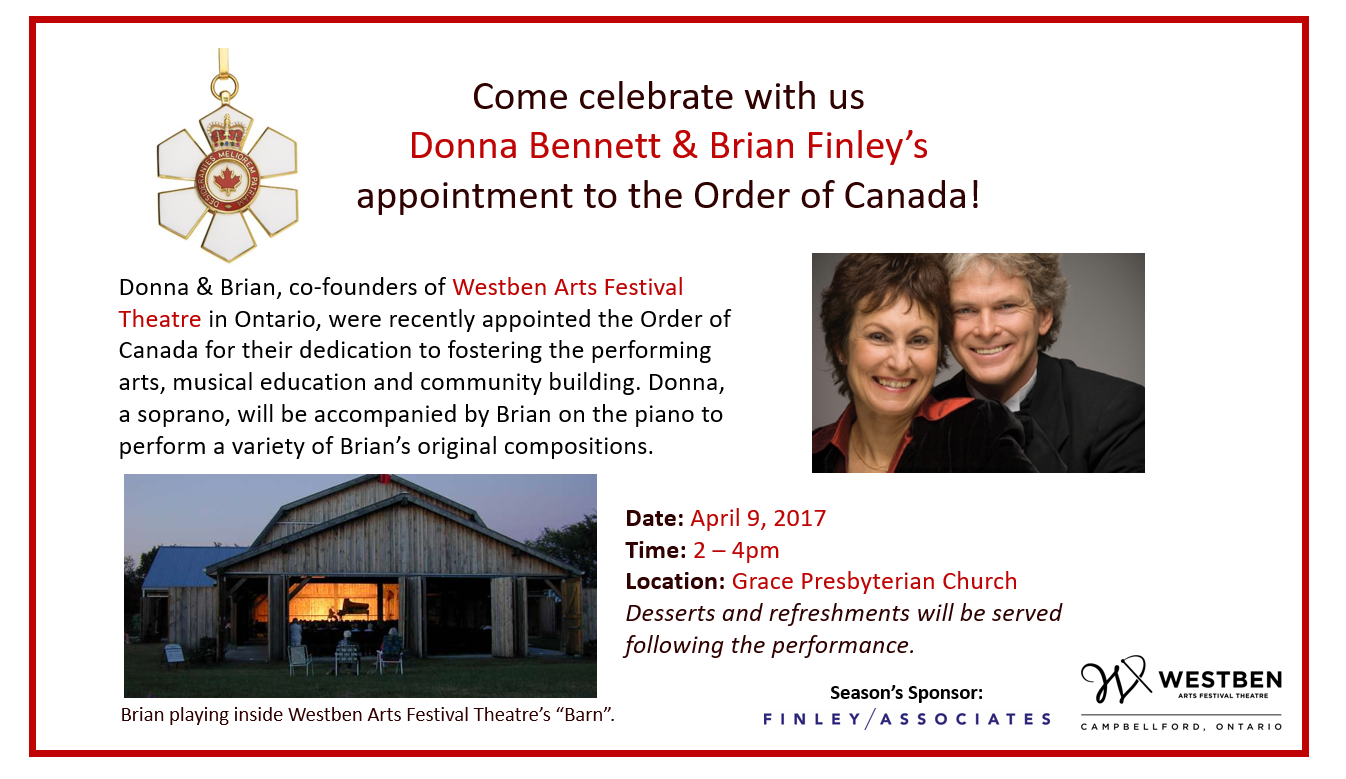 Love hearing live music? Join us Sunday, April 9, 2017 for Donna & Brian's Order of Canada Celebration Concert. Connections Members can purchase tickets for 50% off (only $15 for Connections members!).
Learn more about Westben.